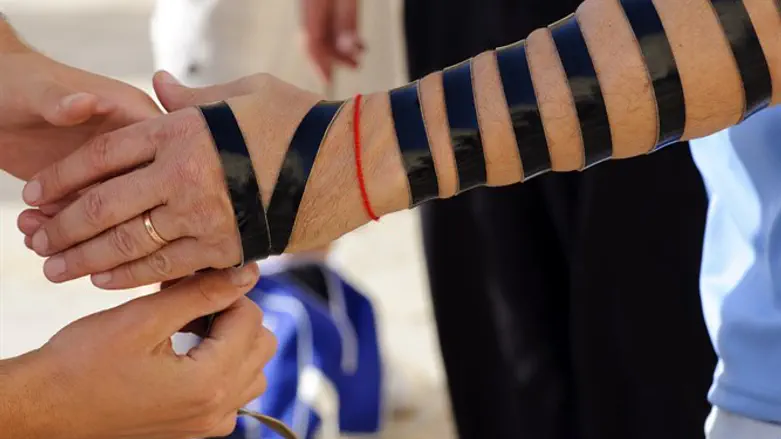 Tefillin
Thinkstock
A Herzliya municipal supervisor on Friday morning fined a Chabad hasid for offering to help passersby put on tefillin (phylacteries), was standing on Herzliya's Sokolov street when a municipal supervisor approached him and demanded the hasid immediately take down the stand and cease his activities.
For many years, Chabad men have set up stands all over Israel, as well as in many other countries, offering to help Jewish men put on tefillin (the performance of a daily Torah commandment to put words with commandments, placed in small black leather boxes as told to Moses, on one's arm and forehead - symbolizing the heart and the mind turning to G-d) Chabad does not force anyone to put on tefillin, but rather offers those who may be interested.
"This man was asked several times to take down his table, but refused," the supervisor wrote, adding that Amitai "is harassing passersby by asking them to put on tefillin."
Amitai received a fine of 730 shekels, and the police were called to the scene.
MK Bezalel Smotrich (Jewish Home) responded to the incident by saying that it is "unacceptable for such things to happen in a Jewish country."
"I will speak to the Herzliya municipality and insist they cancel the fine and inform the supervisor of his mistake," he promised.
The Herzliya municipality said, "The Herzliya municipality must ensure freedom of passage and prevent disturbances and harassment in public places. Chabad was asked to visit the municipality's offices, to find a solution which would regulate their activities and the tables they place in public places."
Agudas Chasidei Chabad responded, "It's hard to believe that out of all the places around the globe where Chabad emissaries help Jews put on tefillin and connect to their parents' tradition, only in Israel will a person be fined or brought to court for it. Not in New York, not in Moscow's Red Square, not in London or at the foot of the Eiffel Tower. Only in Herzliya, a city in Israel."
"For fifty years, the tefillin stands which the Rebbe initiated have been an integral part of the Jewish backdrop. It is unthinkable that just before the Jewish New Year, a Chabad hasid will receive a fine for the serious 'crime' of offering to help Jews put on tefillin.
"The dedicated Chabad students and emissaries will continue to make Judaism and its values available to every Jew. We will continue to work with happiness and kindness, and to bridge the gaps between the different sectors of the Jewish nation."