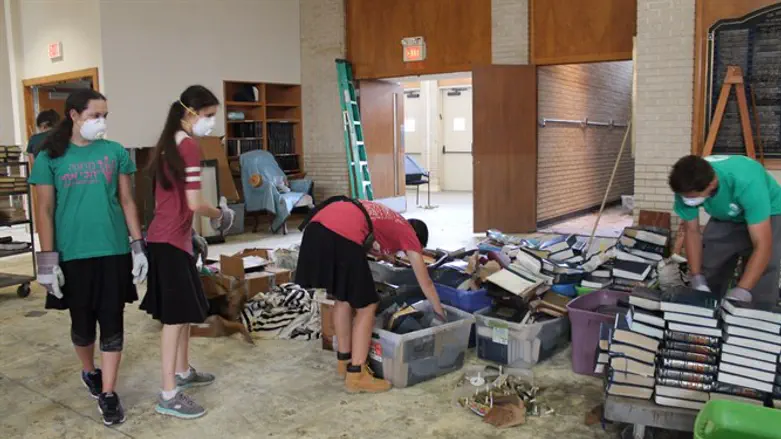 Caring for damaged holy books
Aliza English
A group of New Jersey Jewish youth from the World Orthodox Union (OU) decided to halt all their activities and assist the victims of Hurricane Harvey, which hit Texas and claimed the lives of dozens of people while tens of thousands of others lost their property and were displaced from their homes.
Among the victims are hundreds of Jewish families. Synagogues were badly damaged.
The young people volunteered to travel to the disaster area and have helped Jewish families clean up the great damage to their homes, as well as the many synagogues and holy books that were destroyed by the storm.
When they entered the synagogues, they were appalled to see the enormity of the destruction.The youths were forced to wear masks during the aid operations so as not to be harmed by the contaminated air themselves.
"Some of the holy books actually fell apart and there was no choice but to take them to Geniza, [ritual burial of holy writs]" says Rabbi Eitan Katz, who participated in the delegation."We were in shock at the terrible scenes of destruction, and we had to take all the prayer books, the Chumashim [bibles], the Gemara [Talmud], everything, and take it out to the truck.
"After a few hours of work, at the hottest time of day, I suddenly found a Bible that could be read from; a spark of light in the darkness, and we were all very excited.I pulled it out of the mud and water, gathered the group and sat down to learn the last verses from the Pentateuch together. 'Moses was looking at the Land of Israel, the future of the Jewish people, even though he could not enter the Land. Also you, the youth, are the future of the people of Israel, and the future of the people of Israel is in the Land of Israel: Books can indeed be destroyed, but the people of Israel will write and publish new ones in their stead.'"
In the past, more than 50 groups of young people from the National Council of Synagogue Youth (NCSY) Youth Movement, which belongs to the World OU, the largest Orthodox Jewish organization in America, have also gone to help in times of disaster.
"We are proud to send our volunteers from the youth movement," says OU President Moshe Bein."Our actions show the Jews in Houston that not only our heart is with them but also our hands, we are now beginning our efforts to help and will continue to help even long after the floods are over."
OU Israel CEO Rabbi Avi Berman said: "All of Israel are guarantors for each other and that special beauty is also evident in this case.The wonderful youth does not wait to be called on missions, but initiates assistance to people they don't know; this is a wonderful quality that exists in the Jewish people."