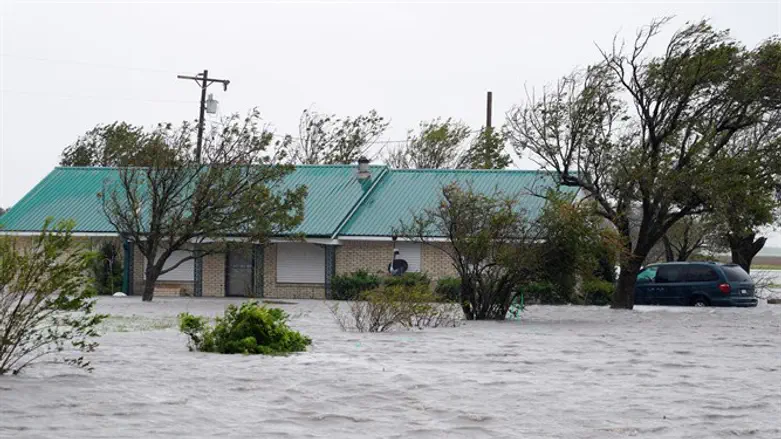 Hurricane Harvey buries Texas ranch house
Reuters
A team of volunteers from Israel's ZAKA Search and Rescue organization is in Houston to help with clean up in the wake of Hurricane Harvey.
The eight-member team will be joined by four more volunteers in the coming days, the organization said. The volunteers currently are assisting throughout the city with tasks ranging from clearing debris to delivering food.
The ZAKA volunteers were briefed by the Federal Emergency Management Agency, which is overseeing the recovery efforts, and met with the Orthodox Union, which is coordinating volunteers within the Jewish community in Houston.
On its first 24 hours in Houston off of a 15-hour plane ride, the ZAKA volunteers worked to clear out the United Orthodox Synagogue and assisted with delivery of kosher food. On Monday, the team worked with Pastor Becky Keenan from the Gulf Meadows Church. "It was particularly meaningful for Pastor Keenan that a team from the Holy Land has come to offer help," ZAKA Chairman Yehuda Meshi-Zahav said in a statement.
The death toll related to Harvey has risen to at least 63 as of Monday. ZAKA's orders so far have related to humanitarian needs, though houses abandoned in the flooding are still being searched for bodies.
ZAKA, which is recognized by the United Nations as an international humanitarian volunteer organization, is known for its expertise in search, rescue and recovery in natural disasters and terror attacks around the world.