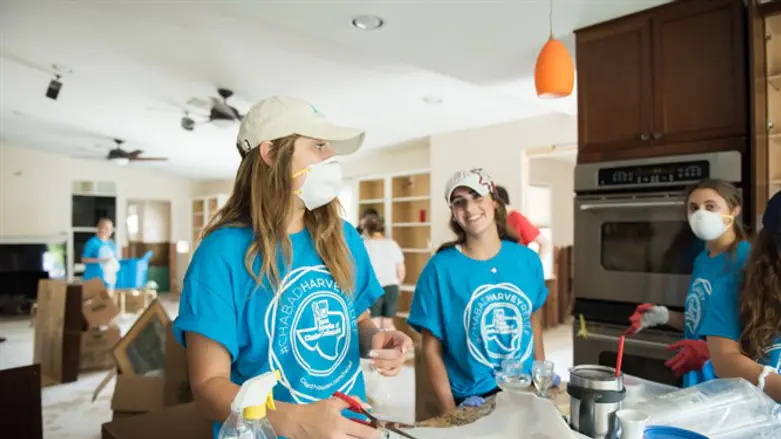 Students help Chabad with 'Harvey' relief efforts
Chabad of Rice/ Elisheva Golani Photography
In 2010, Tennessee was hit with a 1000-year flood. Nashville native Ben Davis remembers the devastation wrought by the storm, so when his Chabad Rabbi at the University of Colorado asked him if he could help with the relief efforts in Houston, Davis was immediately on board.
He recruited a friend who owns a moving truck business, and Rabbi Yisroel Wilhelm arranged the donation of 2,000 pounds of much-needed supplies. They were joined by a dozen more CU students who made the 16-hour drive to Houston to deliver the supplies to victims of Hurricane Harvey
The group of students from Colorado was part of a convoy of 50 trucks and cars that headed to Houston this Sunday to reinforce the relief efforts being conducted by the Chabad on Campus Jewish student group. The 150 students hailed from six colleges in three states: Tulane University, University of Colorado, Texas State University, University of Texas, Louisiana State University and Texas A&M. They joined Chabad of Rice University which has been spearheading the Chabad on Campus efforts for the past week.
Beginning over a week ago, Rabbi Shmuli and Nechama Slonim, directors of Chabad at Rice U., along with several student volunteers, have been cooking meals for, and otherwise assisting, those affected by Hurricane Harvey. As the word spread around campus, more students joined in the efforts. By last Thursday, approximately 200 students from Rice University had volunteered with Chabad to help the victims of Hurricane Harvey.
The Chabad on Campus-led mission is part of a mammoth relief effort by Chabad of Texas which has rescued and provided assistance to thousands of flood victims.
The college students spent the day in Houston cooking and distributing meals as well as working in teams to help clean and salvage homes that were severely damaged by the storm.
Ethan Robinson is a freshman from the University of Texas. He was one of a 60 student contingent led by Chabad of UT director, Rabbi Zev Johnson. "We saw the pictures of the devastation in the news, and we thought it was essential to come. What better way to spend our time than to come down here and help?" explained Ethan, "It's amazing what Chabad can do to bring together all these people from so many cities - creating such unity."
At the conclusion of a hard day's work, Chabad at Rice U. hosted the volunteers for dinner, and a student from each school addressed their peers.
Alex Rovner, a Junior at Rice University, spoke about how much it meant to him that such a large group of students had traveled in from so far to help. "Last week, I was in my dorm room with the news on, watching the flooding, and it was incredibly frustrating just to sit there and not be able to do anything about it. Five days later, to see you all here helping Houston, is just incredible."
Rabbi Shmuli Slonim spoke about the "flood of kindness" that poured into Houston after the storm. He urged the students to keep paying it forward and do good deeds for others during both times of disaster as well as under normal circumstances.
"This is the point of Chabad, to help your friend, your neighbor, your family," summed up Katy Resnick from A&M. It is an integral part of Torah Judaism as well. "We're all just so blessed and happy to help you guys."