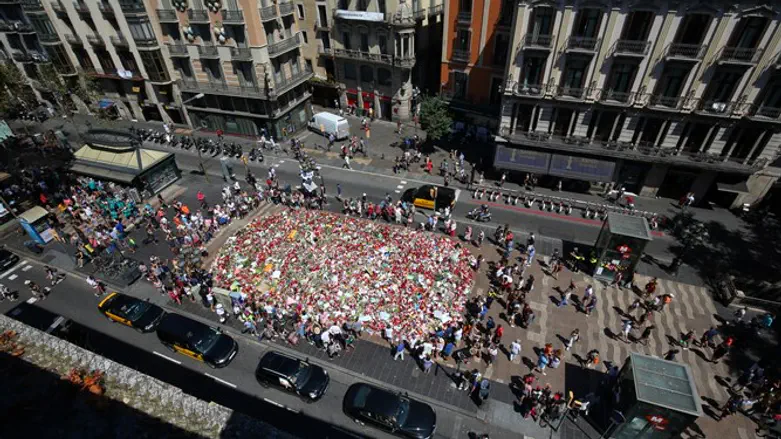 Memorial where van crashed into pedestrians at Las Ramblas in Barcelona, Spain, August 22,
Reuters
A French man named Renaud who was wounded in the Barcelona attack last month is looking for the Israeli man who saved his children's life. The man told his story on the program Seven to Eight on French television channel TF1.
"An Israeli did not hesitate to jump and save my children, to recover them, while the terrorist was still in the car," Renaud said, adding, "I would like to find my children's savior."
Renaud was vacationing in Barcelona with his wife and two children. "I saw people get hit by the vehicle. I had my son in my arms, I just had time to do a quarter turn to try to absorb the shock," he said.
"I was hit hard by the truck. It was very fast, impossible to react," he told Seven to Eight.
"I no longer had my son in my arms, I fell to the left of the vehicle, which stopped a few meters after hitting us," he continued.
Renaud's eldest son was torn from his arms from the van's impact and was recovered by an Israeli who was present at the time.
Renaud is still in the hospital suffering from fractures. His wife and children have recovered.
Sixteen people were murdered and 120 wounded when a Muslim drove a van into pedestrians at Barcelona's La Rambla Street on August 18.