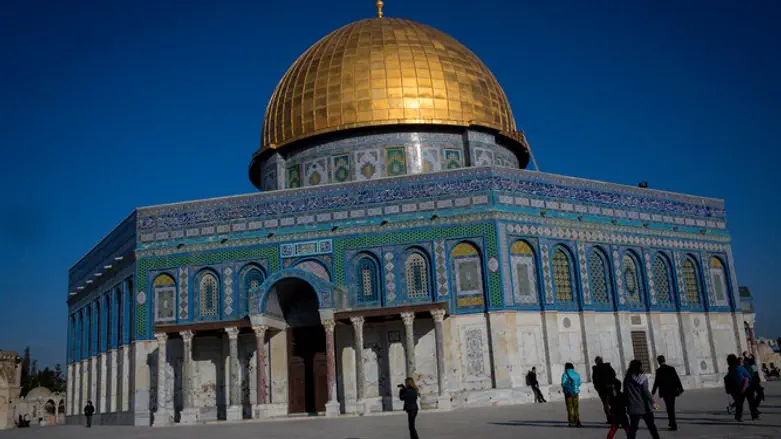 Dome of the Rock on Temple Mount
Miriam Alster/Flash 90
A group of Temple Mount activists have called on the government to close the Temple Mount to Muslims during the upcoming Sukkot festival, after Jews were barred from the site during a recent Muslim holiday.
The Students for the Temple Mount movement issued a statement Sunday, blasting the ban on Jewish visitation of the Temple Mount during the Eid al-Adha festival. Activists say no prior warning was given for the ban, and Jews seeking to ascend the Mount were simply denied access.
"It is outrageous for the authorities to close the Mount during every single Muslim holiday or festival," the statement read. "As it is, the Mount is closed to Jews on Friday and Saturday, and even during the rest of the week it's only open to Jews for four hours a day; now the police have decided to close the Mount on additional days whenever they want?"
"What was really disgusting about this whole situation is that the Israeli Police didn't even bother to tell all of the people who wished to visit the Mount that it would be closed for the four days from Friday to Monday, so that people took the trouble to come to the entrance of the Mount, only to find it locked, with no note left by police at the gate. This is abuse for its own sake, intentionally hurting people who visit the Temple Mount and trampling their rights."
Activists say that when they contacted the police department's Temple Mount unit, they were told that the site was open to all visitors on Sunday – when it in fact was closed to non-Muslims. When activists called again later, the unit changed its response, acknowledging that non-Muslims would not be permitted to enter the site.