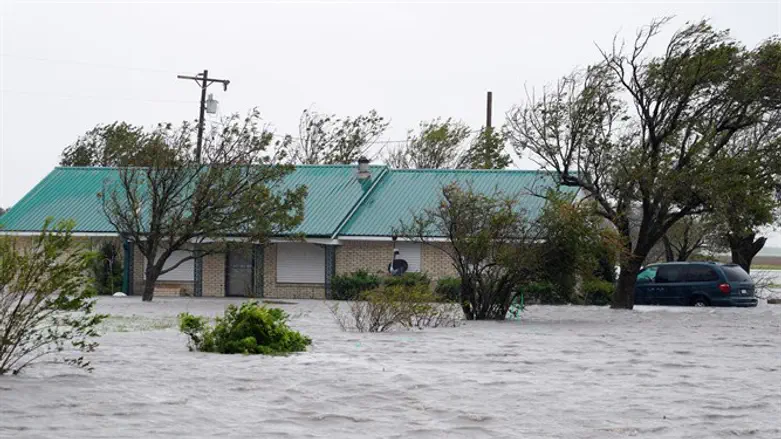 Hurricane Harvey buries Texas ranch house
Reuters
A Texas chemical plant exploded twice on Thursday morning, igniting a fire which will have to "burn itself out."
Plumes of black smoke were seen at the site, and civilians within a 1.5 mile radius were evacuated. In addition, the Federal Aviation Administration issued a temporary flight ban for the area.
The Arkema Group plant had been flooded by Hurricane Harvey and company officials warnd on Wednesday that it was at risk of exploding, but said nothing could be done to prevent the explosion.
The plant, located approximately 20 miles northeast of Houston, manufactures organic peroxides, which are usually refrigerated but warmed up due to the power outage. Backup generators were flooded as well, the company said.
Crosby received over 40 inches of rainwater during the storm, and has not had electricity since Sunday.
"At approximately 2am CDT , we were notified by the Harris County Emergency Operations Center of two explosions and black smoke coming from the Arkema Inc plant in Crosby, Texas," Arkema said in a statement. "We want local residents to be aware that product is stored in multiple locations on the site, and a threat of additional explosion remains."
"We have been working closely with public officials to manage the implications of this situation. As agreed with public officials, the best course of action is to let the fire burn itself out.
"Please do not return to the area within the evacuation zone until local emergency response authorities announce it is safe to do so."
The company also said the fire was not expected to have long-term repercussions, and that the chemicals inhaled were "non-toxic irritants."
According to Miami NBC 6, officials who were near the plant when it exploded suffered headaches and dizziness. One official was admitted to a local hospital, while nine others checked in "as a precaution."