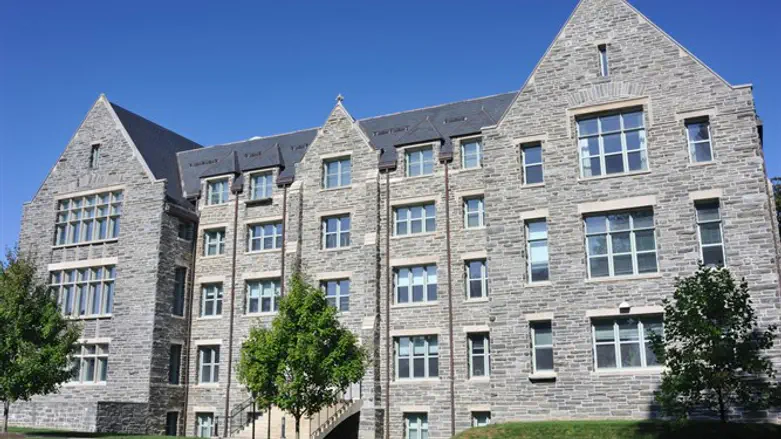 Building on Bryn Mawr College campus
iStock
JTA - Bryn Mawr College in suburban Philadelphia said it will place a yearlong "moratorium" on the use of the name of a founder and past president who was a known anti-Semite.
The name of the library and great hall are named for M. Carey Thomas, who served as the private college's president from 1894 to 1922.
According to biographer Helen Lefkowitz Horowitz, Thomas prevented the hiring of Jewish teachers at the Bryn Mawr School in Baltimore, and later made sure she was not dealing with Jewish candidates for faculty positions at the college. Horowitz also noted that Thomas lobbied against the admission of a Jewish student, Sadie Szold, to the Bryn Mawr School in 1886.
Thomas "had a profound impact on opportunities for women in higher education, on the academic development and identity of Bryn Mawr, and on the physical plan of the campus," College President Kim Cassidy wrote in a letter to the Bryn Mawr community last week. "(S)he also openly and vigorously advanced racism and anti-Semitism as part of her vision of the College. Some of you have suggested that the College rename Thomas Library and Thomas Great Hall because of this legacy, and others have suggested making that history explicit in other ways.
Cassidy said a working group of faculty, students, staff, trustees and alumni was formed in the spring "to educate us and to lead reflection on our institutional histories of exclusion, as well as resistance, and to organize our thinking and actions as a community," she wrote.
"I understand, however, that this is an especially raw moment for members of many different marginalized groups whose rights and dignities are being attacked so openly and so viciously," the letter said, referring to Charlottesville and similar rallies and incidents across the country.
Cassidy said in the letter that the college will "place a moratorium on the use" of the name Thomas to refer to the library and the Great Hall for the 2017-18 academic year while the issue is debated by the working group.
According to the Forward College Guide, Bryn Mawr has 1,346 undergraduate students and 200, or 15 percent, are Jewish.