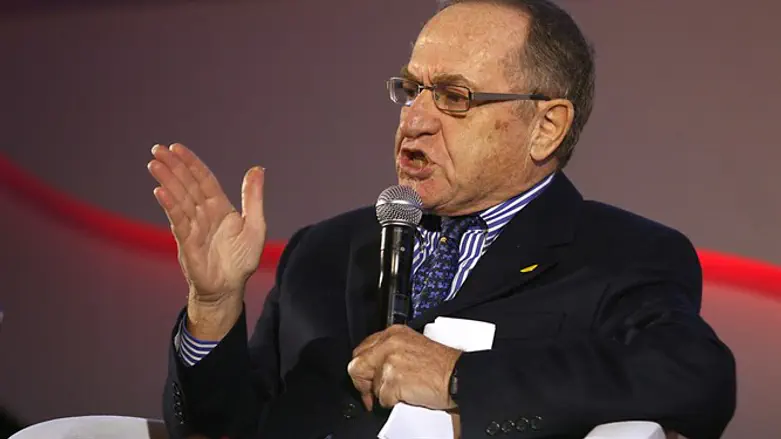 Professor Alan Dershowitz
Gideon Markowicz/Flash90
While pundits across the political spectrum criticized President Trump's initial response to the violence in Charlottesville, Virginia earlier this month, one prominent left-leaning American jurist and lifelong Democrat is calling out the progressive-left for its own failure to condemn violent extremism.
Alan Dershowitz, a famed defense attorney and professor emeritus at Harvard Law School, criticized President Trump's response to the killing of a demonstrator in Charlottesville by a white supremacist, writing in The Algemeiner that the president "has a special obligation to single out for condemnation… individuals and groups that claim… to speak in his name."
But Dershowitz also noted that the American left had largely failed in this regard as well, with mainstream liberals increasingly "willing to excuse" the "anti-liberal bigotry" of "hard-left violent bigots, like the Antifa protest movement.
Speaking on Fox News last week, Dershowitz accused the American far-left of seeking to "tear down America".
"Many of these people, not all of them, many of these people are trying to tear down America," Dershowitz said of the Antifa movement. "A radical American, anti-free market communist, socialist, hard-left organization that tries to stop speakers on campuses from speaking. They use violence and just because they're opposed to fascism and to some of these monuments shouldn't make them heroes of the liberals."
Touching on the recent efforts by Antifa activists to vandalize or remove statues of not only Confederate leaders but also America's Founding Fathers and Christopher Columbus, Dershowitz compared the far-left to Soviet dictator Joseph Stalin.
"The idea of willy-nilly going through and doing what Stalin did, just erasing history and rewriting it to serve current purposes, does pose a danger."