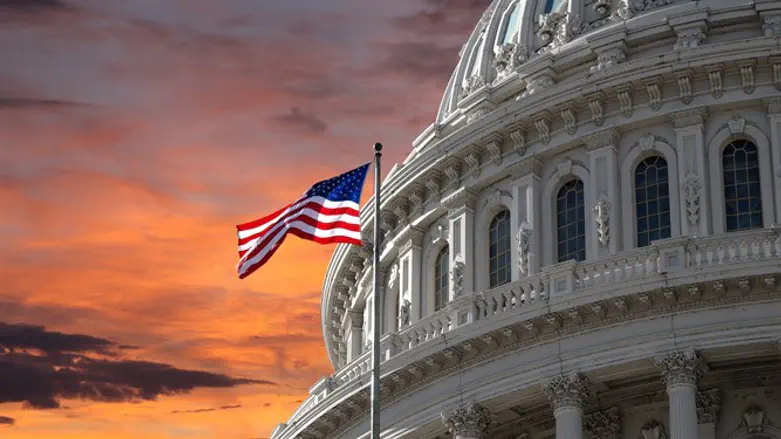 Rotunda, US Capitol building
iStock
The Jerusalem Post today (Sunday) reports a growing tendency among key United States congressman to look beyond the accustomed two-state solution for a Middle East peace model.
The US-Israel Education Association (USIEA), a pro-Israel Christian organization that among other activities sponsors tours of US Congressman to Israel, completed Saturday night a week-long fact-finding mission that included five Congressmen and one Senator.
Rep. Mac Thornberry (R-TX), who participated in the mission, said, "There is a sense in Congress that it is maybe time to look a little broader outside the box" at alternative solutions to the Israel-Arab conflict.
The USIEA includes venues in Judea and Samaria in its congressional mission itineraries, something not customarily done on official Israel visits, according to the Post. During last week's trip, the delegation spent much of a day in the Samarian city of Ariel, visited the Jewish Community of Hevron, and met with Prime Minister Binyamin Netanyahu.
"My view is that some of the assumptions that we have all operated under for a long time – that there has to be a two-state solution, a Palestinian state on the West Bank – some of those assumptions are now being questioned," said Thornberry. "You can't do the same thing over and over again" and expect a different outcome.
Senator James Lankford (R-Oklahoma), a member of the Senate Intelligence Committee who also participated in the mission, cautioned that Israeli-Palestinian Arab peace will not occur as a result of superficial diplomacy, but will require a "longer-term generational shift. I don't anticipate that there is any set of issues where the table is set for some grand agreement because, even if the political leaders make an agreement, that does not mean that the people on the street will agree to all those things," he said.
Lankford's describes his strategy as a process continuing "one bite at a time, rather than with one big agreement."

Rep. Steve Russell (R-Oklahoma), a highly decorated 21-year US Army veteran who has seen action in Kosovo, Kuwait, Afghanistan, and Iraq, explained that "you have really three options when two groups don't get along. You have accommodation, which is the ultimate goal; you have assimilation, where the stronger side forces the hand of the weaker, and then they accept it; and you have elimination, when neither side want to agree and are determined to eliminate the other."
Russell called those three options "the path of history ... From my perspective as a historian and a soldier, you have Israel, which is willing to do the first two stages – accommodation and assimilation – but have never looked at the third category as a solution.
For "the other side," however, Russell said, "the first and only option is elimination."