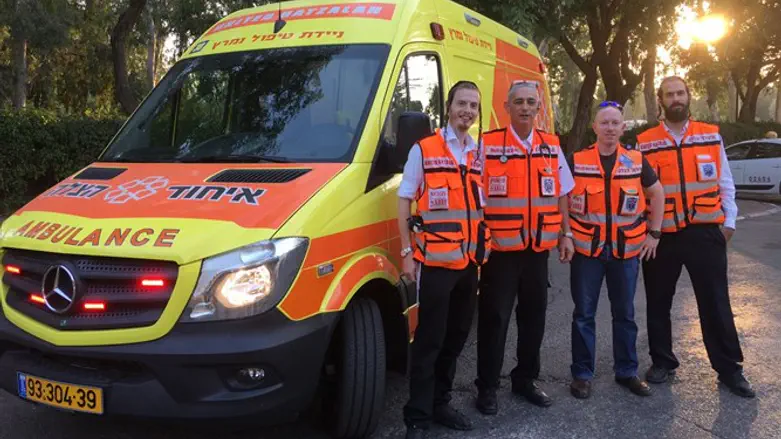 United Hatzalah ambulance
Courtesy of United Hatzalah
Students attending gap year Israel programs now have an opportunity to participate in Israel's first officially recognized NREMT training program. NREMT, the "National Registry of Emergency Medical Technicians," is the most recognized accreditation for medical first responders in the United States.
The course is being offered by United Hatzalah in a framework that will be flexible in order to fit the schedule of the programs that the students will be attending while they are in their gap year.
Shai Jaskoll who is the Director of International Relations for United Hatzalah and was one of the people who spearheaded the project said, "This course is the first of its kind in Israel. We aren't just giving people basic level EMS training and throwing them on ambulances to volunteer. This program provides students with full level EMT-B training, hands on ambulance experience on our ambulances, and a possible career path when they return to the U.S. as they can take the NREMT exam either in Tel Aviv or back home and start working as an EMT pretty much anywhere in the country that they choose."
Adding a Zionist spin to the program Jaskoll added, "Many students who come to Israel to spend six-months or a year here are looking to make an impact on the country in addition to spending time studying. What better way to make a positive impact than by saving lives here and gaining the training necessary to be licensed to do it back home as well. It doesn't get much more Zionist than saving lives in Israel and taking what you learned in Israel and using it to save lives in other places as well."
Students wishing to participate in the course, will receive the entire NREMT training as per the guidelines of the U.S. non-profit that will qualify them to be licensed EMTs and first responders both in Israel and in the U.S. While both licenses are dependant on passing written and practical exams, the course will prepare the students for those exams and provide them with hands-on training on Israeli ambulances.
The NREMT accreditation is recognized as the required license of medical first responders in 38 states making it the most recognized program in the U.S. The other 12 states have reciprocating programs allowing people with NREMT accreditation to transfer their certificate and receive a license from the state. The program is being offered by United Hatzalah who has been officially recognized as the NREMT training representative in Israel.
Students wishing to take the course, or program organizers wishing to offer the course for their students, can choose from attending classes at United Hatzalah's headquarters in Jerusalem, or host an in-house course given by accredited instructors from United Hatzalah at their institution. Recognizing the sensitivities involved for many religious gap year programs, United Hatzalah is offering tailor made courses that are separate for men and women should the students or institutions be interested in those options. Mixed classes can also be made available if students or institutions prefer those.
"Our goal with this project is to enable students coming for their gap year to gain tangible training in how to save lives. We want to make it as user-friendly as possible for students as well as institutions, from the entire spectrum of religious observance, to participate in this new program. We have excellent teachers, both men, and women, who are excited about the prospect of training a new generation of EMTs. The course is a serious commitment and is a lot of hard work. It involves 200 hours of in course training supplemented by hands-on training afterward. The profession isn't easy, and it isn't for everyone. For those who are interested, we want to make it as easy as possible for them to succeed, that is why we have opened this new program, and that is why we can tailor the classes to fit the needs of those who wish to participate," Jaskoll concluded.