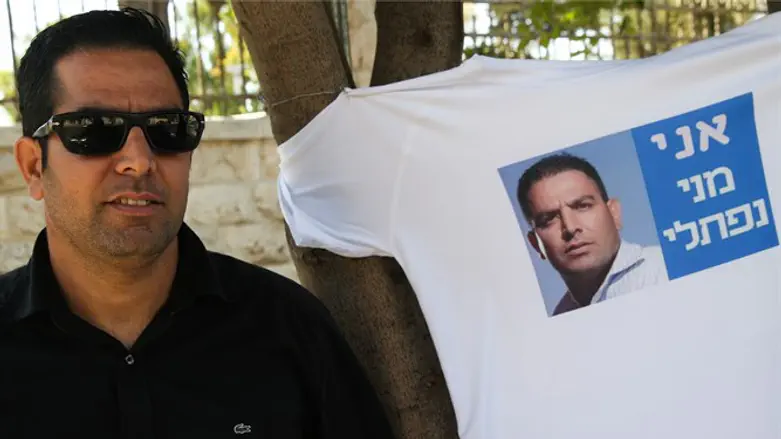 Manny Naftali
Nati Shochat/Flash 90
Legal sources are claiming that Manny Naftali, the former superintendent of the Prime Minister's Residence, has been referred to as a state witness in recent hearings against Sara Netanyahu, the wife of Prime Minister Binyamin Netanyahu, Channel 2 News reported on Wednesday evening.
Naftali last year won a lawsuit against the Netanyahus and was awarded 170,000 shekels (nearly $43,000) in compensation, after he complained of extensive verbal abuse by Netanyahu's wife.
He alleged that she had turned over a table and broken kitchenware while shouting at employees, and likewise claimed she summoned workers to the Prime Minister's Residence just to wish her a good night.
According to Wednesday's report, Naftali sought protection from self-incrimination when he approached the police on his own initiative.
It was also reported that after Naftali gave his testimony, it became clear that some of the offenses he committed were allegedly carried out on direct orders of the Prime Minister's wife. In some cases, the sources claimed, Naftali committed these offenses because of an over-motivation to please Sara Netanyahu and due to his desire to obtain "tenure" in the Prime Minister's Residence.
The legal sources further said that the decision to refer to Naftali as a state witness is significant because state witnesses are actually criminals who committed a crime and are now receiving benefits because of their testimony.
Sources involved in the investigation said that the police took a long time, but in the end they succeeded in obtaining significant reinforcements for Naftali's testimony.
Earlier this month it was reported that Attorney General Avichai Mandelblit is expected to announce that he is accepting the police recommendation to indict Sara Netanyahu over suspicions that she used hundreds of thousands of shekels in public funds to cover her private housekeeping expenses.
The affair, which first broke a month before Sara Netanyahu's husband was re-elected prime minister in 2015, has become known as the "prime minister's residences" scandal.