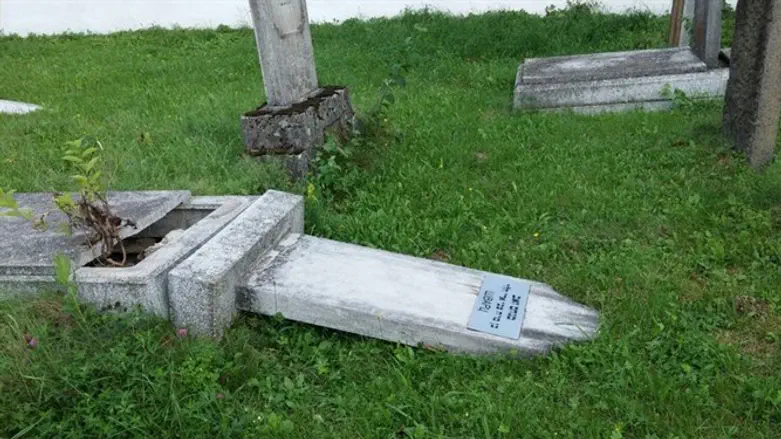 Svaliava cemetery desecrated
Rabbi Laz's office
Vandals desecrated an ancient Jewish cemetery in Svaliava, Ukraine.
The vandals uprooted and destroyed twenty gravestones, including the gravestone of the town's former rabbi, Rabbi Shalom Goldenberg.
Local Chabad emissary and rabbi of the Carpathian cities Rabbi Menachem Mendel Wilhelm urged local authorities to act quickly and not ignore the act, demanding the culprits be caught and brought to justice.
In addition, Rabbi Wilhelm asked Jewish organizations in the Ukraine to pressure the government to investigate the incident and prevent further incidents.
Svaliava is the administrative center of the Svaliava Raion district, and part of the Zakarpattia Oblast. The city sits on the banks of the Latorytsia River.
One of the town's former rabbis was Rabbi Yitzhak Isaac Weiss, who served for twenty years and wrote the "Beit Yitzhak" and "Divrei Yitzhak." Rabbi Weiss later served as the head of Munkacz's rabbinical court.
In 1943-44, Svaliava's Jews were sent to Auschwitz, where they were murdered by the Nazis.
Last year, a Chabad rabbi was beaten to death in the Ukraine, and in January, Ukraine marchers chanted "Jews out." On Tuesday, 120 Ukrainian Jews arrived in Israel.