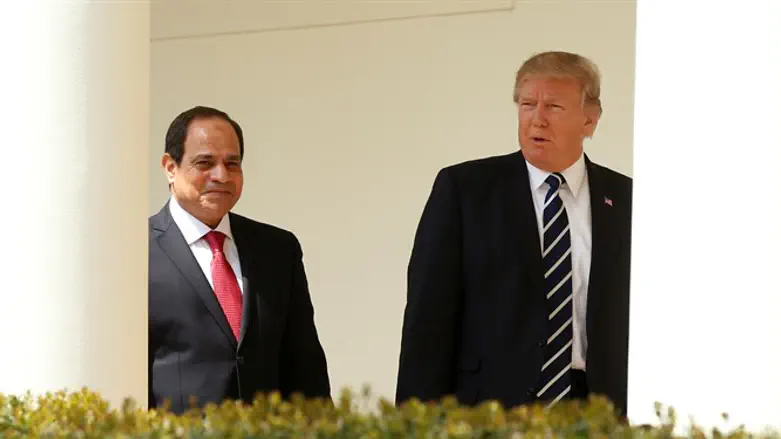 Sisi and Trump
Reuters
The United States has decided to deny Egypt $95.7 million in aid and to delay a further $195 million, two sources familiar with the matter said on Tuesday, according to Reuters.
The reason for the decision is Egypt's failure to make progress on respecting human rights and democratic norms, the report said.
The decision reflects a U.S. desire to continue security cooperation as well as frustration with Cairo's stance on civil liberties, notably a new law that regulates non-governmental organizations, said the sources, who spoke on condition of anonymity.
U.S. officials were especially unhappy that Egyptian President Abdel Fattah Al-Sisi in May allowed the NGO law to go into effect. Human rights groups and activists say the law effectively bans their work and makes it harder for charities to operate.
Egyptian officials had assured U.S. officials earlier this year that the law, which restricts NGO activity to developmental and social work and introduces jail terms of up to five years for non-compliance, would not go through, the sources said, according to Reuters.
Spokespeople for the White House and the State Department were not immediately available for comment.
Ties between the U.S. and Egypt were strained under former President Barack Obama but had appeared to improve after President Donald Trump took office.
In 2013, shortly after Sisi and the Egyptian army ousted then-Islamist President Mohammed Morsi, Obama suspended American military aid to Egypt. He released the aid two years later.
American law forbids sending aid to countries where a democratic government was deposed by a military coup, though Washington has never qualified Morsi's ouster as a "coup" and had been cautious about doing so, choosing only to condemn the violence in the country.
Trump's relationship with Sisi got off to a good start when they met last September in New York while Trump was running for president.
After Trump's election, Sisi praised the new president and said he expected greater engagement in the Middle East from his administration.
In a recent interview with Fox News, Sisi hailed Trump and said he has a "true understanding" of the realities in the region when it comes to terrorism.
The sources who spoke to Reuters on Tuesday said the administration had decided to "reprogram" $65.7 million in fiscal year 2017 Foreign Military Financing funds (FMF) and $30 million in fiscal year 2016 Economic Support Fund (ESF) funds. "Reprogramming" means these funds would be used for other purposes and would not go to Egypt.
The administration made a separate decision to withhold $195 million in fiscal year 2016 Foreign Military Financing funds which, had it not acted, would have expired and ceased to be available at the end of the current fiscal year on September 30.
Under U.S. law, the administration is required to withhold 15 percent, or $195 million, of the $1.3 billion it gives Egypt annually in FMF funds unless it can certify that Cairo is making progress on advancing human rights and democracy. However, the administration can issue a national security waiver that allows the funds to go through.
This year, the administration again decided it could not certify Egyptian progress on rights and it chose to issue the national security waiver but it is still going to withhold the $195 million, according to Reuters.
That money will now go into an account where it will be held pending Egyptian improvement on human rights and democracy.