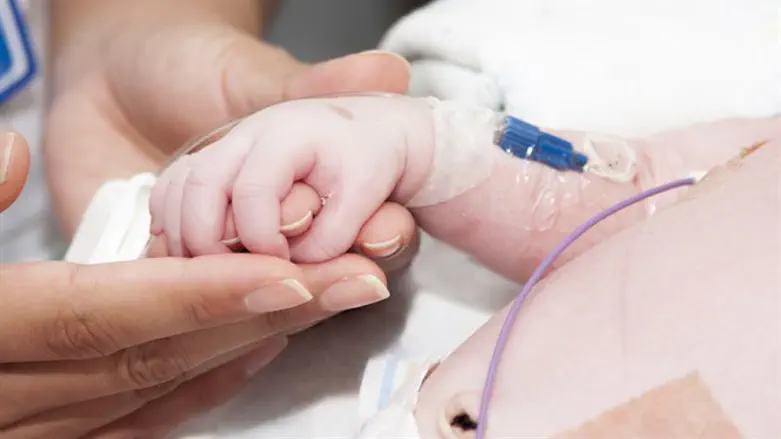 baby in serious condition
ISTOCK
A 33 year old woman from central Israel died in childbirth as a result of amniotic fluid embolism.
The tragedy occurred at the Beilinson hospital in Petah Tikvah.
During the birth, the woman felt ill and began to suffer from seizures. The hospital said that "the medical staff rushed her to the operating room in order to save the mother and the fetus. The symptoms pointed to amniotic fluid embolism. All medical efforts to save her proved unsuccessful."
The baby was rescued and taken to the premature births department at Schneider Children's Hospital. The infant's condition is listed as critical.
The hospital reported that the staff shared the family's grief and that the incident had been reported to the Health Ministry. The family agreed to donate the mother's corneas.
Amniotic fluid embolism is a rare condition which affects women in childbirth in which amniotic fluid enters the bloodstream. As a result, the body experiences an acute allergic reaction and excretes many substances whose function is to fight foreign substances.
The reaction causes a dangerous instability of the cardiovascular system, which can result in the death of the mother. Amniotic fluid embolism occurs in 1 out of every 20,000 births. The mortality rate for the mothers can range from between 13-30%. The infant mortality rate ranges from 9-44%.