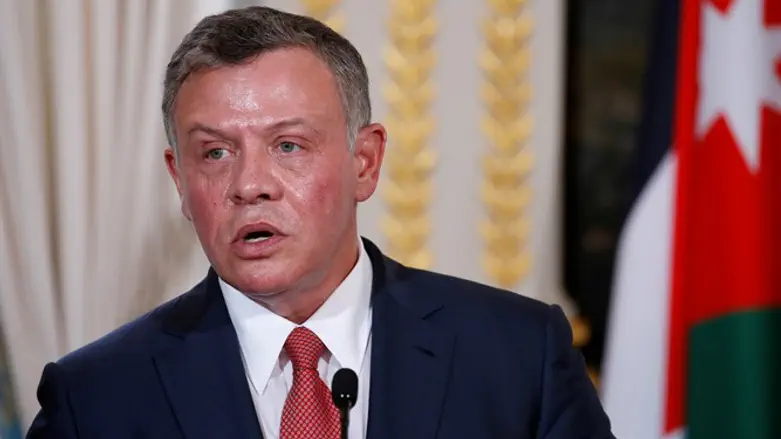 Jordan's King Abdullah II
Reuters
The Kingdom of Jordan is insisting that Israel issue a formal, public apology for the shooting deaths of two Jordanian citizens in Amman following a stabbing attack on an Israeli security officer near the Israeli embassy.
On July 23rd, a Jordanian national stabbed an Israeli security official in his apartment near the Israeli embassy in Amman, Jordan.
When the guard opened fire on the attacker with his personal sidearm, the attacker was killed instantly, and a second Jordanian national, the owner of the property, was fatally wounded by a stray bullet.
Following the incident, Amman officials demanded Israel waive the guard's diplomatic immunity and surrender him to local police for interrogation. Israel refused, leading to a diplomatic standoff between Jerusalem and Amman.
While the guard and the rest of the Amman embassy staff were ultimately returned to Israel, Jordan has refused to permit their return until Israel issues a formal apology for the deaths of the two Jordanian nationals.
According to a report by the Jordanian daily Al-Rad Sunday night, Jordan's position remains unchanged, with the Hashemite kingdom insisting that the Jewish state publicly apologize for the two deaths before the embassy staff are allowed back into the country.
Channel 10, citing Al-Rad, reported that Jordan has also conditioned the return of the Israeli embassy on the completion of ongoing investigation into the shooting incident – and that the guard who opened fire in self-defense be tried for murder.
Israeli authorities began an investigation into the stabbing attack and subsequent shooting follow the return of the guard and embassy staff to Israel, though there are no indications an indictment is likely to be issued in the immediate future as Jordan has demanded.