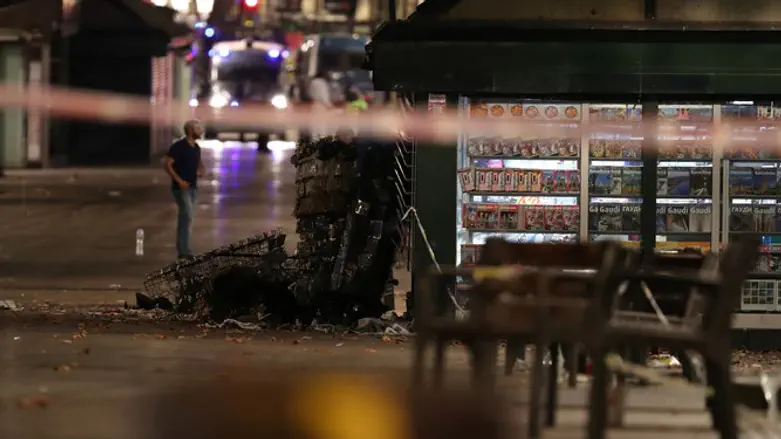 Aftermath of Barcelona attack
Reuters
Catalonia's branch of the Boycott, Divestment and Sanctions (BDS) movement against Israel suggested that European governments are "responsible" for a terrorist attack in the Barcelona area.
BDS Catalonia made the accusation on Friday, a day after the Islamic State (ISIS) terrorist group said its terrorists killed 14 people and wounded another 100 in two incidents in and near Spain's capital of Barcelona.
Following a paragraph that states that BDS Catalonia "wishes to condemn the attacks committed" and to "express solidarity with the victims and their relatives," the statement asserts that "we also condemn the responsibility of European governments in what they are doing with their foreign and domestic policies, and their complicity in human rights violations worldwide."
In the only reference to terrorism in the statement, the authors wrote, "We also do not forgot the victims of military occupations, of wars and terrorism in Afghanistan, Iraq, Palestine Lebanon, Libya, Syria, Yemen, Egypt, Tunisia, Morocco, Mali, Nigeria, Cote d'Ivoire, Burkina Faso and many other places where what happened yesterday in Barcelona is a daily occurrence."
Finally, the authors added, "We emphasize our opposition to Islamophobia, xenophobia and all forms of discrimination." Solidarity, the authors added, "is our most powerful weapon. #Barcelona."
ACOM, a Madrid-based pro-Israel network whose legal actions over the past years resulted in dozens of court rulings declaring the BDS movement discriminatory, sent the BDS Catalonia statement in an email to journalists, calling it "grotesque."
"A movement based on hatred, the perpetuation of conflict and defense of terrorism like BDS cannot avoid proving at all times its immorality and double standard," ACOM wrote in the email. "This is what happened in the latest lamentable statement by BDS Catalonia.