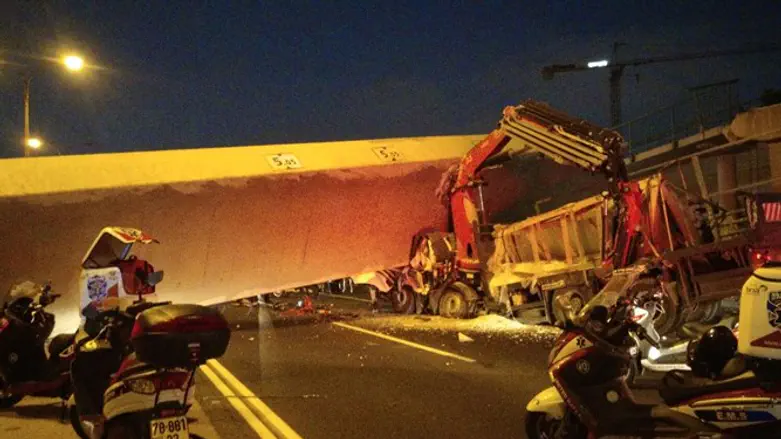 The collapsed bridge
United Hatzalah
A haredi family was miraculously saved when a bridge collapsed on Highway 4 Monday night.
The pedestrian bridge collapsed suddenly when a crane-carrying vehicle passed underneath it. As the crane opened, it pulled the bridge down, killing the vehicle's 58-year-old driver.
In an interview with Behadrey Haredim, a young haredi spoke about the miraculous moments, in which his family was saved.
"We live in Ramat Elhanan in Bnei Brak," he said. "Just before the accident, my 20-year-old older brother started walking on the bridge with some of my nieces and nephews."
"My mother began crossing it moments afterwards, with some of my other nieces and nephews. Suddenly, one of the smaller children slipped, and my mother stopped paused to comfort him. She was still at the very start of the bridge.
"The minute she took to calm him down is what saved their lives. Right afterwards, the crane hit the bridge and it collapsed.
"My mother was in hysterics. She immediately called the brother who had just crossed the bridge with the other children. She gave a sigh of relief when he told her that they walked off the bridge seconds before it collapsed."