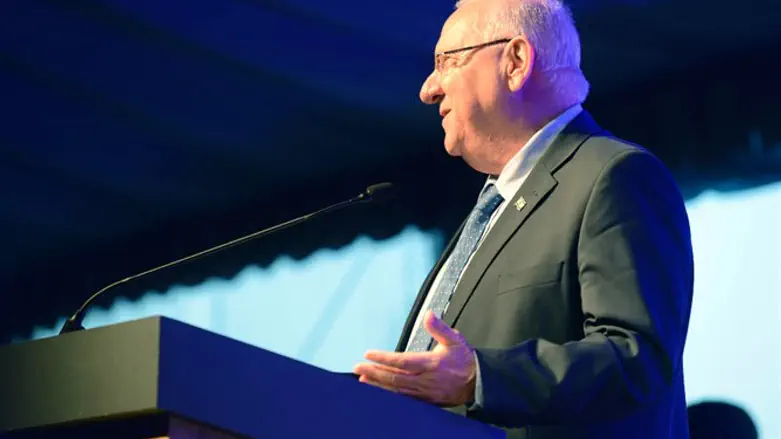 Reuven Rivlin
Mark Neiman / GPO
President Reuven Rivlin this evening (Wednesday), sent a letter to the Executive Vice Chairman of the Conference of Presidents of Major American Jewish Organizations, Mr. Malcolm Hoenlein, asking him to convey his solidarity with the American Jewish community following the neo-Nazi rally in Charlottesville, Virginia last weekend.
The President wrote, "At this difficult time I want to express my support and solidarity, and that of all the Israeli people, for you and your communities, and ask that you kindly convey this message on my behalf to the Jewish communities across the US."
He noted, "The very idea that in our time we see a Nazi flag - perhaps the most vicious symbol of anti-Semitism - paraded in the streets of the world's greatest democracy, and Israel's most cherished and greatest ally, is almost beyond belief.
"We have seen manifestations of anti-Semitism arise across the world again and again, in Europe and the Middle East. In the face of such evil, we stand strong as we did then. With faith. With faith in humanity, with faith in democracy, and with faith in justice. I know that the great nation of the United States of America and its leaders will know how to face this difficult challenge, and prove to the world the robustness and strength of democracy and freedom."
President Rivlin concluded, "As we say Chazak, Chazak, ve'Nitchazek. Be strong, be strong, and we will be strong."
The images of heavily armed neo-Nazi's adorned with Swastika's had horrified many Israels, and multiple politicians expressed their disgust. Prime Minister Netanyahu tweeted Tuesday that he was "outraged by expressions of anti-Semitism, neo-Nazism and racism."
Justice Minister Ayelet Shaked also weighed in, calling for the prosecution of the right wing extremists. "The neo-Nazis in the United States should be prosecuted," she said. "A democratic state does not have to tolerate such phenomena."
Yesh Atid faction leader MK Yair Lapid vented his rage at President Trump calling on "both sides" to refrain from further violence.
"There aren't two sides," responded Lapid. "When neo-Nazis march in Charlottesville and scream slogans against Jews and in support of white supremacy, the condemnation has to be unambiguous."