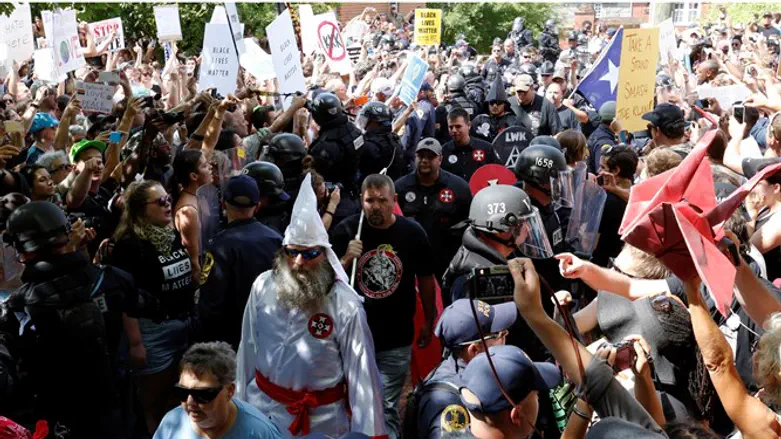 KKK march in Charlottesville
Reuters
JTA - The Jewish community of Charlottesville, Virginia hired security guards for the first time in its history ahead of a white supremacist event that ended with a deadly attack on counter-demonstrators.
In the rally, thousands of marchers chanted racist slogans, including about Jews and blacks.
Tom Gutherz, who leads Congregation Beth Israel, told Haaretz Sunday that the move was deemed necessary after Saturday, when 20-year-old white supremacist James Fields killed Heather Heyer, 32, and injured 20 others by driving a car into a crowd of activists protesting an white supremacist rally planned for the city that day.
"We had to hire the service of security guards because of the events," Gutherz told Haaretz. "We're sad but we had no choice."
The synagogue held scheduled activities Saturday, Gutherz said. "It was clear we wouldn't let this intimidate us, these people can't keep us away from our synagogue," he said of the activists.
On Saturday the US President Donald Trump tweeted a response condemning hatred and violence.
"We ALL must be united & condemn all that hate stands for," US President Donald Trump wrote on Twitter. "There is no place for this kind of violence in America. Let's come together as one!"
Virginia resulted in the governor, Terry McAuliffe, a Democrat, calling a state of emergency.
Disorder including clashes with counter-protesters left more than 30 injured.
Vice President Mike Pence did issue such a condemnation while speaking to reporters in Cartagena, Colombia. "We have no tolerance for hate and violence, white supremacists or neo-Nazis or the KKK," said Pence.