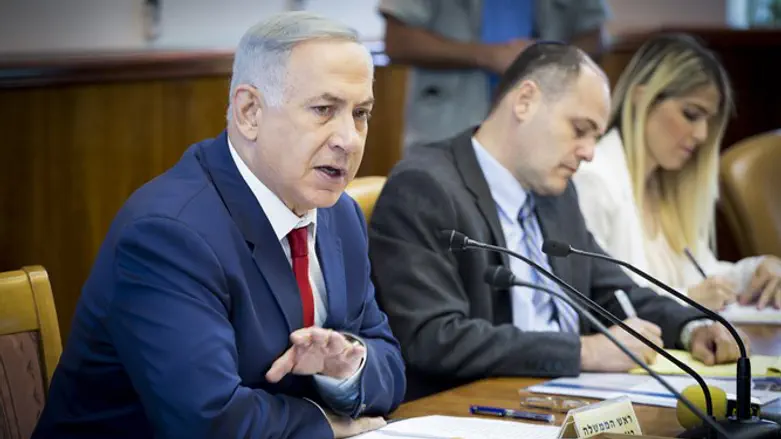 Netanyahu at weekly cabinet meeting
Emil Salman/Flash 90
Prime Minister Binyamin Netanyahu is promoting an amendment to the law which would allow him to declare war or embark on a military operation that could lead to war without the need for prior approval by the government, Channel 2 News reported on Sunday.
The proposed amendment to one of Israel's basic laws will be brought to the Knesset for approval as soon as the Knesset returns from its summer recess.
Two months ago, the Cabinet approved an amendment that would allow the government to authorize the Cabinet at the beginning of each term to launch a major military operation or war. The amendment was passed in order to prevent leaks of sensitive information from Cabinet meetings.
Sunday's report said that the reason Netanyahu is promoting the newest amendment is an incident that took place seven years ago when Netanyahu and then Defense Minister Ehud Barak ordered the Chief of Staff at the time, Gabi Ashkenazi, and the head of the Mossad at the time, Meir Dagan, to carry out a certain covert operation.
Dagan and Ashkenazi refused to obey the order and said that the operation in question was illegal, since it could lead to war.