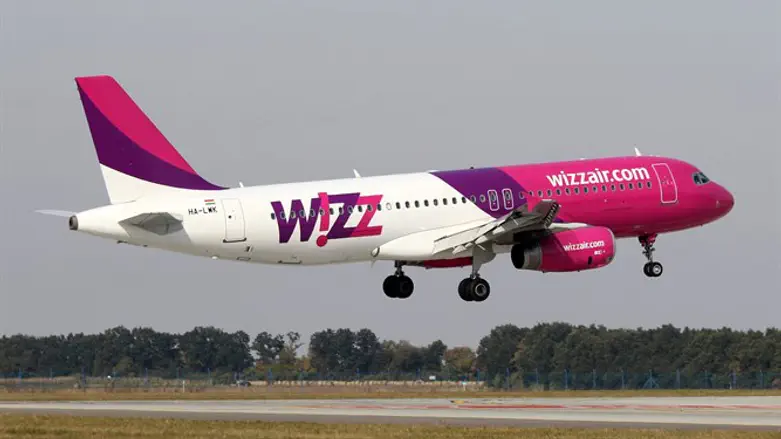 Wizz Air airplane
iStock
Israel's tourism is set to get another boost, with Wizz Air adding four new low-cost routes from Eilat's Ovda Airport to destinations across Europe.
The new flights will fly to and from Prague, Bucharest, Poland's Katowice, and Latvia's Riga. All of these are considered to be among the most popular destinations in Eastern and Central Europe.
"The services, operated during the winter season, will establish an important link for trade and business between the countries, boost bi-directional tourism, while travelers can explore the rich history of these cities, enjoy the various cuisines, dazzling architecture and amazing landscapes," Wizz Air said in a statement.

Tourism Minister Yariv Levin (Likud) said, "I congratulate Wizz Air on their decision to deepen their activities in Israel and open new routes from Europe to Eilat."
"I am pleased that the collaboration between them and the Israel Tourism has intensified. This is a great vote of confidence in the Israeli tourism product and proof that the Eilat directive, which we initiated to encourage tourism to the resort, is yielding results.
"The tourism industry is undergoing a great revolution and the expansion of Wizz Air activities is further proof of the substantial improvement in Israel's attractiveness as a tourism destination. These new routes will lead to more growth in incoming tourism to Israel and they are part of the exceptional marketing efforts that we are leading.
"These endeavors have already led to a 26% increase in incoming tourism this year."
Wizz Air Communications Manager Sorina Ratz said, "Today we further continue our massive expansion in Israel bringing exciting news for all our Israeli customers, underlining once again Wizz Air's commitment to the country."
"We are delighted to announce four more routes to commence this autumn.... With more than 70% seat capacity increase in 2017 across our 22 Israeli routes, we continue to stimulate tourism industry, as well as trade and business links between the countries.
"The whole Wizz team looks forward to welcoming our customers on board of one of the youngest fleets in Europe and to continuing to grow our Israeli network throughout Europe."
In February, Transportation Minister Yisrael Katz (Likud) said his goal was to bring 70 new flight routes to the new Ramon (Timna) Airport. The new airport will replace Ovda when it opens.