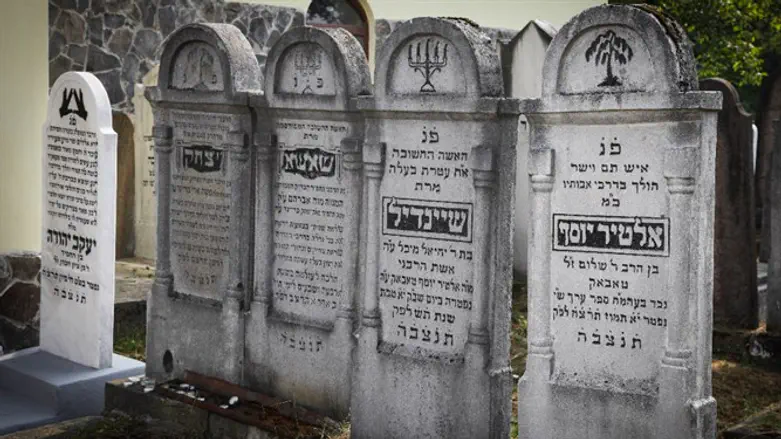 Jewish Cemetery (illustration)
Photo: Isaac Harari/FLASH90
JTA - The government of Cape Verde listed the island nation's Jewish cemeteries and some other structures as heritage sites.
A Washington-based group, the Cape Verde Jewish Heritage Project, announced the June 29 designation of the sites as part of the country's "National Historical Patrimony" this week in an email to its members. The designation means that the cemeteries may not be destroyed and that a number of buildings with Jewish associations may not be altered, the group's president, Carol Castiel, told JTA.
"CVJHP will continue to work hand-in-hand with the government based on our memorandum of understanding (Protocolo) signed in September 2016, to identify, restore, preserve and maintain these important monuments to Jewish heritage," the statement said. Castiel told JTA that the sites may eventually be marked as a Jewish heritage circuit for tourists to the island.
The island's Jews have all but disappeared, although many of its families are aware of their Jewish ancestry, as are some Cape Verde emigres who have settled in New England.
There were two waves of Jewish immigration to the former Portuguese colony about 300 miles off Africa's west coast. The first was of secret Jews who came with Portuguese colonization in the 15th century.
That immigration is difficult to track because of the Jews' secrecy, and the cemeteries and other sites are relics of a wave of Jewish immigrants to the island from Morocco and Gibraltar in the mid-19th century.
The Cape Verde Jewish Heritage Project has been working since 2008 with municipalities — particularly Praia — that are known to have had a Jewish presence. King Mohammed VI of Morocco has been a benefactor of the project.
Earlier this month, Cape Verde announced that it would no longer vote against Israel in the United Nations. The announcement came following a meeting two months ago between Israel's Prime Minister Benjamin Netanyahu and Cape Verde's President Jorge Carlos Fonseca on the sidelines of the Economic Community of West African States conference in Liberia.