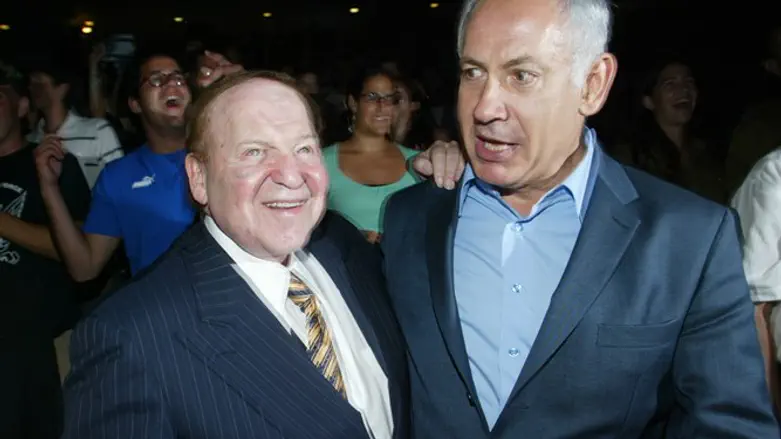 Adelson and Netanyahu
Oliver Fitoussi / Flash 90
American billionaire Sheldon Adelson told police that Israeli Prime Minister Binyamin Netanyahu asked him to shut down the Israel Hayom weekend supplement, Channel 2 reported.
The report also said that Netanyahu's ex-chief of staff Ari Harrow corroborated Adelson's testimony, telling investigators that he was tasked by Netanyahu to advance a deal with Yediot Aharonot publisher Noni Mozes, whereby Netanyahu promised to shut down Israel Hayom in exchange for favorable coverage from Yediot Aharonot, it's bitter rival.
Israel Hayom and Yediot Aharonot have been locked in an ugly battle for years, ever since Adelson's free daily supplanted Yediot as the number-one newspaper in circulation.
Police have been investigating allegations, in what has been nicknamed 'Case 2000,' ever since a recording of a talk between Netanyahu and Mozes was found on the cell phone of ex-chief of staff Ari Harrow, in which Netanyahu was heard explicitly discussing a quid pro quo to with Mozes.
Harrow has agreed to testify against Neyanyahu in exchange for a lightened verdict on charges that he fictitiously sold his consulting firm while still keeping control of it after becoming chief of staff, and was recently sentenced to six months of community service and a 700,000 shekel fine.
If true, the latest allegations would add to Netanyahu's legal difficulties. Police announced last week that they suspect the premier of bribery and fraud charges in the unrelated 'Case 1000,' probing lavish gifts that Netanyahu received from wealthy tycoons, and his wife Sara is also undergoing a police investigation over allegations of improper use of government funds in the Prime Minister's residence.