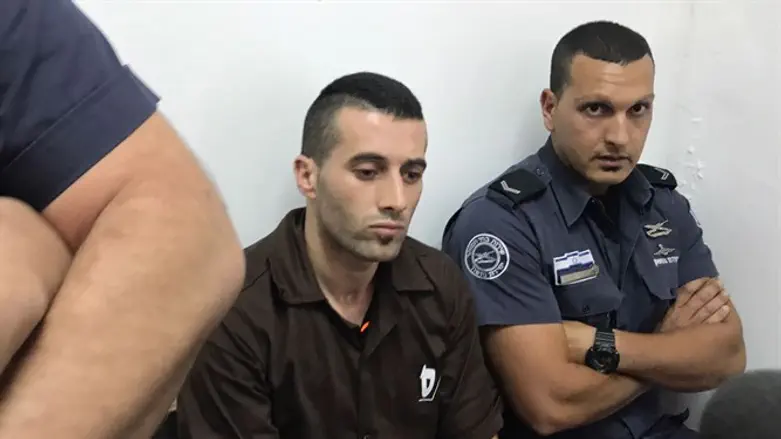 Muhammad Kharoff in court
Hezki Baruch
Muhammad Kharoff, the Shechem (Nablus) Arab who was arrested on suspicion of murdering 29-year-old Michal Halimi, admitted in court that the murder was done in order to help free convicted terrorists.
Halimi, who lived in the Binyamin-region town of Adam, was found dead in the Holon sands on July 24.
"I wanted to kidnap her and swap her for the prisoners," Kharoff told the court.
Kharoff also denied that there was a relationship between himself and Halimi and threatened "to kill all the Jews."
"One isn't enough for me," he said.
Kharoff was in a relationship with Halimi, and the two published on their Facebook pages their intent to become engaged.
An indictment will be filed against Kharoff in the coming days.
Meanwhile, Lehava CEO Bentzi Gopshtein said, "The price of assimilation and the left's co-pollution (a play on the Hebrew word for coexistence) is pushing us [to the edge]. Here, another Jewess was murdered for the sake of coexistence."
"The Arab murderer was interrogated several times, he admitted to the murder and recalled exactly what he did. According to him, he met her in the Holon area, strangled her, threw stones at her head, covered her body, and left the area in his car.
"This incident proves again how important Lehava's work to save Jewish girls is.
"I call on Justice Minister Ayelet Shaked (Jewish Home) not to give in to Reform's pressure against Lehava. I call on everyne who is still in a relationship with an Arab to leave him now.
"We will continue working for the good of Jewish girls and women, with a lot of love for Israel."
Lehava is an anti-assimilation organization, that fights intermarriage
החשוד ברצח היהודיה בבית המשפט