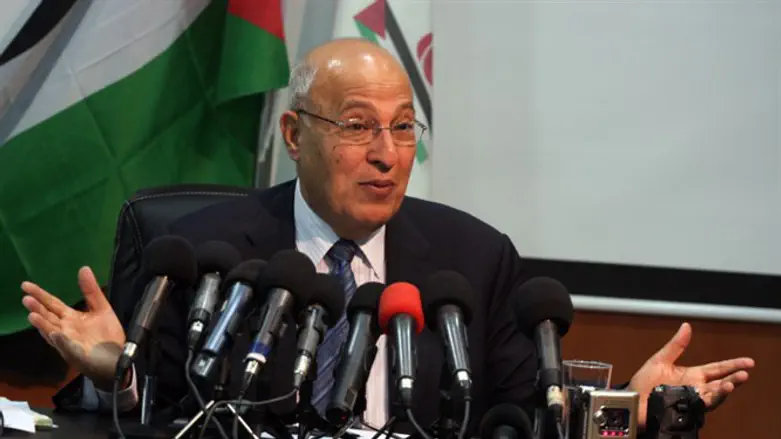 Nabil Shaath
Flash 90
Nabil Shaath, considered to be a close confidant of PA President Mahmoud Abbas (Abu Mazen) ruled out the idea of land swaps, saying that the idea can be considered only after Israel recognizes a Palestinian state with pre-1967 borders. Shaath was likely responding to recent reports stating that Prime Minister Binyamin Netanyahu expressed his readiness to transfer the Wadi Ara region to the Palestinian Authority.
"Practically speaking, land swaps can take place only after Israel recognizes Palestine, in 1967 borders, and not land swaps in Jerusalem or other places in the green line" Shaath was quoted as saying by the Ma'an News Agency.
The senior PA official also said that any potential swaps could not include more then 1.8 percent of Judea and Samaria.
Shaath's comments come in the wake of recent reports that Netanyahu discussed with the Trump administration the idea of transferring the Wadi Ara region, with its considerable Arab population, to the Palestinian Authority, in exchange for recognition of Israel's annexation of Jewish communities in Judea and Samaria.
The reports surfaced after the funeral for the three terrorists responsible for the murder of the police officers on the Temple Mount turned into a festival of incitement, with tens of thousands of Arab residents from the Wadi Ara region setting off fireworks and called for the destruction of Israel.
Land swaps have often been touted as a way to bring about a two state solution, as such as move would spare Israel from having to evacuate heavily populated cities, such as the Eztion Bloc and Ariel. Top politicians, most prominently Defense Minister Avigdor Liberman (Yisrael Beytenu) have long advocated for transferring large Arab Israeli cities to the Palestinian Authority in the event of a future peace deal.