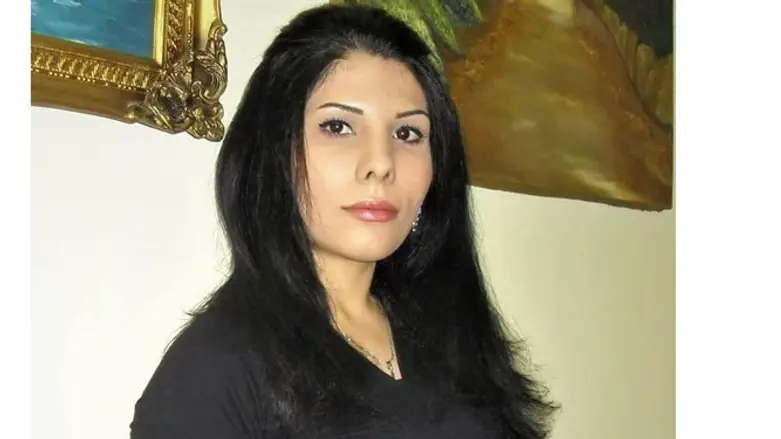 Neda Amin
INN: NA
Time is running out. This is a call for activism.
Neda Amin, a female Iranian journalist who works for an Israeli news outlet and a UN refugee in Turkey, will soon be deported to Iran by Turkish authorities.
Amin said that she has been harassed by Turkey's National Intelligence Organization (MIT) for a long time.
"People who said they work for the Turkish intelligence organization called me on the phone five or six times one-and-a-half years ago. Then they interrogated me at a foreigners' branch directorate. They kept asking me why I wrote for an Israeli newspaper and with whom I have connections in Israel. Although I repeatedly said I am only a journalist, they accused me of being a spy for Israel."
Amin covers Iran for the Persian service of The Times of Israel and blogs about her country on her personal website.
Amin, 32, had to leave Iran in 2014 after having been arrested several times due to her articles and books. One of her books, Zenjir ("The Chain") has been banned in Iran.
"Zenjir is a feminist book about the oppression of women in Iran," said Amin. "One of my arrests in the country was due to that book. The pressure from the government would not stop so I had to leave."
Amin arrived in Turkey in the same year and, in May 2015, she became a refugee recognized by the office of the United Nations High Commissioner for Refugees (UNHCR).
The document granted to Amin by the UNHCR states that "as a refugee, she should be protected from forcible return to a country where she would face threats to her life or freedom."
However, Amin was sent a notice by Turkish immigration authorities on July 5, which stated that her application for international protection has been rejected. "If you do not apply for an authorized administrative court or do not inform our provincial directorate of your application to the court in 30 days, you will be deported. And if you do not want a re-entry ban to be imposed on you, leave Turkey within the stated period," the notice added.
Amin said that she went to the UN office in Turkey but the UN authorities refused to help her. "They told me if Turkey removes my status as a refugee, there is nothing that they can do about it."
Now Amin fears that her life will be in danger in Iran for writing for the Israeli news media.
After the 1979 Islamic Revolution, Iran severed all diplomatic and commercial ties with Israel, which the Islamic government of Iran still does not recognize. Former Iranian President Ali Akbar Hashemi Rafsanjani even characterized Israel as a "one-bomb country." Iran is also among the 16 Muslim countries that forbid Israeli Jews from visiting.
But Iran's hostility against Jews is not limited to Israelis. The Iranian government even banned the use of the WhatsApp messaging application in 2014 after it was bought by Mark Zuckerberg, an American Jew, according to news reports.
Iran also banned Daniel Barenboim, the music director of the Berlin State Opera House, who was supposed to conduct a concert in Tehran in 2015, from entering the country because he holds Israeli citizenship.
For Iranian citizens, the situation is much grimmer. Many Iranians who live in Western countries and hold dual citizenship have been arrested in Iran upon entering the country, and some have received lengthy prison sentences. Last year, Iranian-American businessman Siamak Namazi, who was living in Dubai before his arrest, and his ailing father, Baquer Namazi, were each sentenced to 10 years in prison on charges of "spying for the United States," according to a report by Mizan, the Iranian judiciary's news service.
Iran does not tolerate any encounter that could lead to a positive change in relations between Iranians and Israelis. Among the "measures" Iran takes is forbidding Iranian athletes from competing against Israeli athletes at international sports events. Borna Derakhshani, 15, for example, has been banned from representing the national team of Iran because he faced a player from Israel at the Tradewise Gibraltar Chess Festival this year.
But if an Iranian national works for an Israeli institution, it is completely unacceptable according to Iranian laws. "There is a law in Iran that criminalizes all kinds of work with Israel," Amin said. "If Iranian citizens work for any Israeli institution they are to be arrested and could be sentenced to death by hanging."
"Anywhere but Iran"
"As long as I am not deported to Iran, I could live in any country," Amin said. "I don't really mind where. I am ready to live in anywhere but Iran."
The Iran Human Rights Documentation Center (IHRDC) reported that from January to June of this year, 213 people were executed by the Islamic Republic of Iran. "As the Iranian government does not announce many executions, it is difficult to know the exact number," the IHRDC added.
Iran has long been known for its crackdown against critical journalists, student leaders and pro-democracy activists. The Iranian-Canadian photojournalist Zahra "Ziba" Kazemi, for example, was sexually abused, tortured and killed by Iranian officials following her arrest in Iran in 2003. She had been detained for taking pictures of Tehran's Evin prison, where many dissidents are jailed. To date, no Iranian officials involved in her murder have been held accountable.
Amin's legal time in Turkey is running out. The UN refuses to help her even though she was first granted a refugee status by the organization.
Given Amin's work experience at an Israeli outlet, her feminist views and criticism of the Iranian regime, her fears of having to return to her country of birth are completely justified.
If she is deported back to Iran, there is a very strong possibility that she will be arrested, tortured and even executed. Women's rights activists, refugee rights defenders and Israeli authorities must help save her life.
The writer is a Turkish journalist and political analyst formerly based in Ankara, and a fellow at the Middle East Forum (MEF).