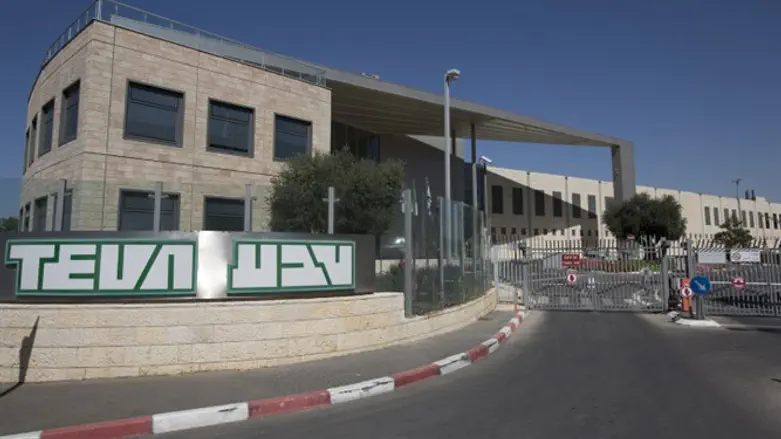 Teva offices
Flash 90
Teva Pharmaceutical Industries announced on Sunday it would lay off some of its 7,000 employees in Israel in the coming months, as it reorganizes in a drive to improve competitiveness, reported Reuters.
Teva, Israel's largest company, did not specify how many workers would leave, but a source close to the process told the news agency the number would be about 350, mainly in production.
Teva employs 4,000 workers in production in Israel. It has already begun consultations with unions at two of its productions sites, one in the city of Kfar Saba and the other in the southern Negev desert, according to the report.
"In light of the complex business reality the entire pharmaceutical industry and Teva in particular face, Teva has been implementing in recent years a global reorganisation," it said in a statement. "Large parts of this plan have already been completed in most of the countries Teva operates."
Teva's acting chief executive, Yitzhak Peterburg, said the company was committed to do all it can to guarantee that its work sites in Israel were competitive, efficient and sustainable for the long term.
Teva's previous CEO, Erez Vigodman, stepped down in February, while Chief Financial Officer Eyal Desheh resigned at the end of June.
Vigodman's resignation came after the company suffered a series of stumbles and legal and operational setbacks which resulted in investors calling for a shakeup.
Among those challenges was a U.S. court ruling that found patents invalid on Teva's most important branded product, the multiple sclerosis treatment Copaxone.
Last December, Teva was ordered to pay $519 million in the United States to settle charges that it paid bribes to foreign officials to win business in Russia, Ukraine and Mexico.
Recent reports said the company would appoint Anglo-Swedish group AstraZeneca's Chief Executive Pascal Soriot as its next CEO, but the company would not confirm those reports.
The company's stock price has been languishing since it acquired the Actavis generics drug business from Allergan last year for $40.5 billion, noted Reuters.
Meanwhile on Sunday, the Histadrut Labor Federation announced a labor dispute at nine Teva plants in Israel following its announcement of layoffs.