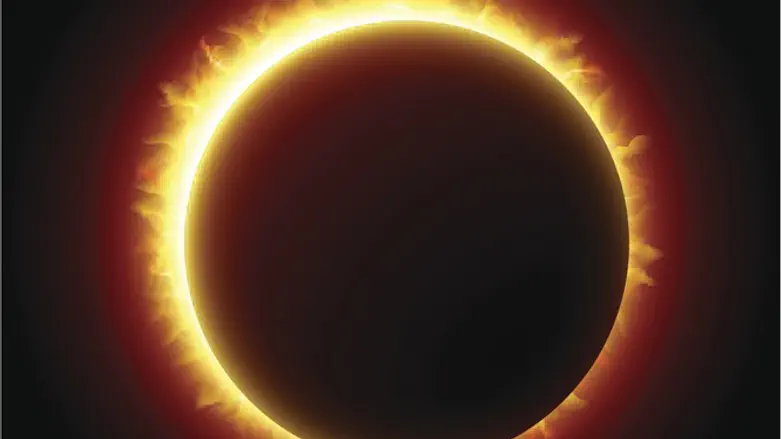 Solar eclipse
Thinkstock
For the first time in 99 years, a total solar eclipse will streak across the entire United States on Aug. 21.
In its 70-mile-wide path, millions of people will see the sun disappear behind the moon, as it travels on an orbit from Oregon to South Carolina. The eclipse will take approximately two hours, with each period of totality lasting approximately two minutes and 40 seconds.
Carbondale, Ill. is the closest city to the eclipse's point of greatest duration, and NASA observers will join an estimated 50,000 eclipse-chasers - twice the population of this sleepy Midwestern city surrounded by cornfields.
Chabad of Southern Illinois University in Carbondale will be there to greet the visitors, preparing for an overflow Shabbat (Sabbath) crowd. Chabad centers along the eclipse's route will also host informative and inspirational programs to provide a Jewish perspective on the event.
"The eclipse will be on Monday, so people expect to stay for the entire week," Chabad Emissary to Carbondale Rabbi Mendel Scheiman explained. "We're happy to host the Jewish visitors."
Rabbi Scheiman and his wife Yochi are preparing Shabbat meals and inviting participants to join Shabbat prayers. The city has 300 Jews, and a similar number of Jewish students study in the University of South Illinois.
Carbondale is also the only city in the path of the next total solar eclipse, expected to occur on April 8, 2024. Columbia, South Carolina's Rabbi Hesh Epstein will speak about the time the Lubavitcher Rebbe saw a solar eclipse. On August 21, Rabbi Epstein will host the local community for a lunch and an "observation party" during which the men can don tefillin (phylacteries).