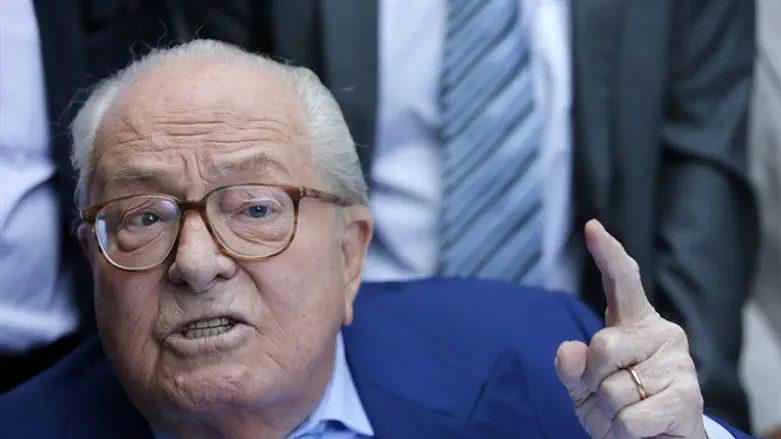 Jean-Marie Le Pen
Reuters
The European Jewish Congress (EJC) has called on the French Judiciary to use the full weight of the law and impose the strongest possible punishment on Jean-Marie Le Pen, the founder and former leader of the National Front, after it was decided earlier this month that he will face trial for inciting racial hatred for comments he made about a Jewish actor and singer in 2014.
In a National Front video, Le Pen said that "next time we will put him in an oven" when asked about Patrick Bruel's criticisms of the party. The EJC was a civil party to the lawsuit.
"Le Pen is an unrepentant anti-Semite and a very clear warning has to be sent to people like him that racism and bigotry will no longer be tolerated in France," Dr. Moshe Kantor, President of the EJC, said. "We hope that if found guilty he will face the fullest punishment possible under French law."
"We deeply appreciate President Emmanuel Macron's strong words condemning anti-Semitism and we hope that this will be followed by action against people like Le Pen." Kantor added.
Earlier in the week, President Macron spoke at an event in Paris to commemorate the 75th anniversary of the Vel D'Hiv round-up, in which 13,152 French Jews, including 4000 children, were deported to Nazi concentration camps by the then French Vichy Nazi-collaborating government in July 1942. At the event President Macron admitted French official culpability for the round-up and condemned modern-day anti-Semitism and said this included anti-Israel sentiment.
Following President Macron's comments, far-Left French leader Jean-Luc Melenchon, echoing comments made by National Front leaders, said that French were not responsible for the Vel D'Hiv round-up. The French government has accepted reponsibility several times for the tragedy carried out by French police.
"Melenchon's comments are sadly yet another indication that the dangers of anti-Semitism exist on both extremes of the spectrum," Dr. Kantor said. "These extremes share little in common except for a hatred and suspicion of Jews and now, even Holocaust denial."
"We are heartened by President Macron's comments but dismayed that anti-Semitism and Holocaust denial are still prominent in modern day France."