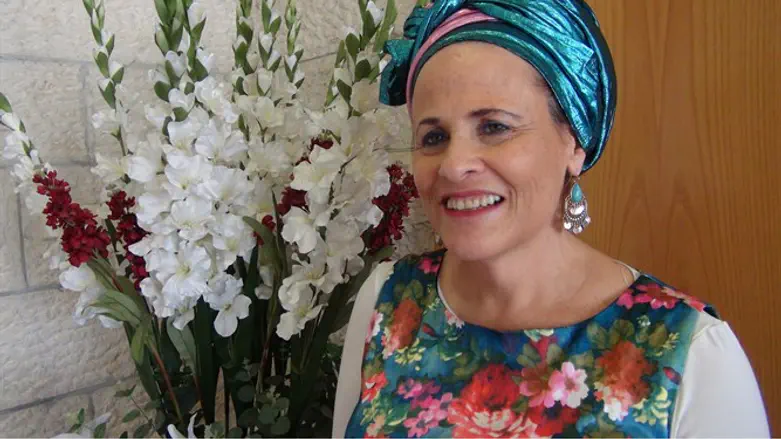 Dr. Chana Katan
Eliran Aharon
Dr. Chana Katan, a religious OB/GYN and fertility specialist, told Arutz Sheva that drafting women into combat positions in the IDF is part of an "attempt to mask women's identities."
Dr. Katan participated in the "Bikdusha" conference on Monday, which focused on same-sex leanings amongst religious youth. In her opinion, differentiating between identity crises and experimentation and those who were born attracted to their own gender is crucial.
"The earlier we reach these youth, the higher the chance that we won't see the situation deteriorate," she said. "When a child understands that something is happening to his body because he is an adolescent, and, constantly surrounded by the boys in his dorm, he starts to have feelings for them, he needs to know that that's normal and it's okay.
"If he has someone to talk to, someone who can answer his questions, then most of the time the attraction will disappear on its own and he won't even think about it anymore."
Regarding drafting girls into combat positions, Dr. Katan said, "I think that it's a result of the ongoing attempts to cover up female identity, sexual identity, family identity, and the reason we were created."
"A woman has her own destiny, she has her own needs - including physical needs - and this [fighting as a combat soldier] is not appropriate for her physically. Her body is built differently.
"We're not ashamed to say that we believe in traditional families, and that belief won't change. We have a message for the world. I founded a family center, where we'll discuss this in an academic forum. There will be classes on family life for teachers, and there will be classes on building a normal family in the modern era.
"I ask: Where are the mothers of these female combat soldiers? Why don't they think of their daughters' physical welfare, when these girls suffer so many things which they were not built to suffer?"