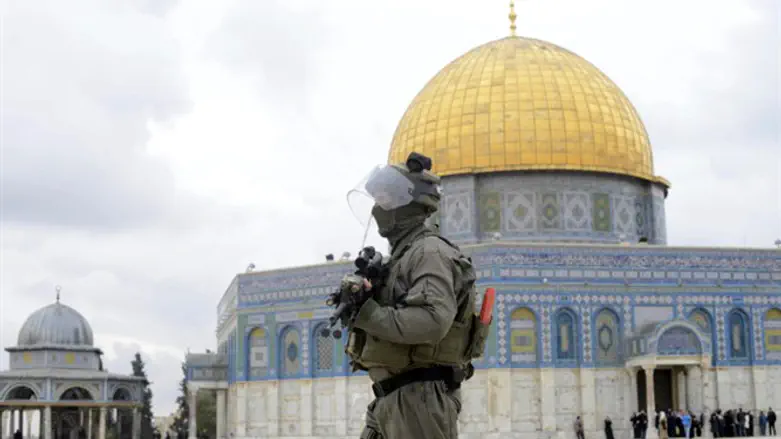 Israeli policeman on on Temple Mount, Al-Aqsa Mosque
Flash 90
Jewish visitors have been barred from the Temple Mount Wednesday morning, after police claimed several Jews "violated visitation rules" on earlier on Wednesday.
While Jews are allowed to visit the Temple Mount – the holiest site in Judaism – they are barred from praying, even silently, or bringing religious items like tefillin (phylacteries) or prayer shawls.
In addition, Jewish visitors are usually escorted by officials from the Jordanian Waqf, the Islamic trust which manages the Muslim sites on the Mount. Waqf officials monitor Jews visiting the Mount to ensure that they do not approach the Muslim prayer areas or engage in prayer.
Since last Friday's deadly terror attack near the Mount, however, Waqf officials have refused to ascend the Mount, claiming that new security measures put in place following the attack infringed on the religious rights of Muslim worshippers.
After the shooting attack, which left two Border Police officers dead, Israeli police set up magnetometers (advanced metal detectors) at the entrances to the Temple Mount, as well as extra security cameras. Police suspect that employees of the Waqf aided the three terrorists responsible for the shootings, helping them to smuggle their weapons onto the Mount and store them in a mosque.
Muslim clerics and Palestinian Authority leaders have called for a "Day of Rage" against the new security measures, encouraging Arabs to demonstrate in Judea, Samaria, and Jerusalem.
With the Waqf temporarily absent, Jewish visitors to the Temple Mount took the opportunity to exercise their freedom of religion, but were escorted off the Mount by police and detained.
After the two separate incidents of Jewish prayer on the Mount, Jerusalem Police Commander Yoram Levy ordered the Temple Mount closed to Jewish visitors.
"Following an additional violation of the visitation rules for the Temple Mount by a group of Jewish visitors who ascended the Mount, Jerusalem District Commander Yoram Levy ordered the group removed from the area and Temple Mount closed to Jewish visitors," a police spokesperson said.
Arab rioters attacked security forces and civilian cars in eastern Jerusalem Tuesday night and Monday morning, injuring two police officers and at least one Jewish civilian.