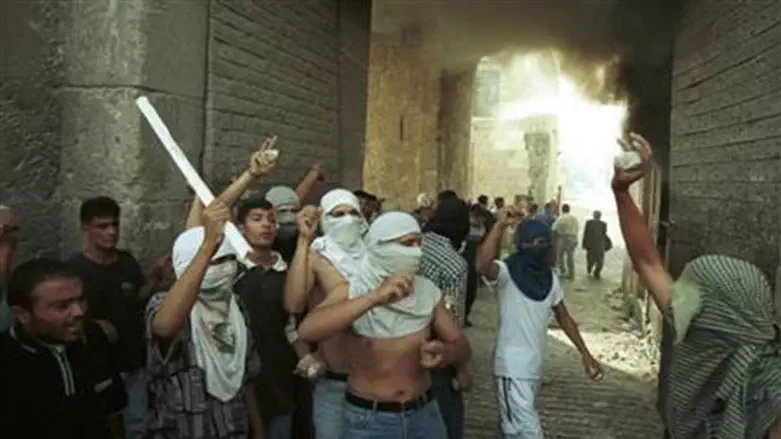 Arabs riot in the Old City
Flash 90
The Fatah movement called for a "day of rage" in eastern Jerusalem and Judea and Samaria to protest new security measures at the Temple Mount.
The call on Tuesday by the party of Palestinian Authority chairman Mahmoud Abbas to hold the day of rage on Wednesday came after a night in which Muslim protesters against the installation of metal detectors on the Temple Mount clashed with Israeli security forces.
Tanzim, the armed faction of Fatah, also announced that Friday prayers will be held in the centers of PA cities and that the sermons be dedicated to the Al-Aqsa mosque and against the new security measures, Ynet reported.
About 50 Muslim protesters and one Israeli officer were hurt in the violent protests in eastern Jerusalem on Monday night.
Muslim worshipers and the Muslim Waqf, which administers the site, have boycotted the Temple Mount over the new security measures.
Two of the nine entrances to the site holy to both Muslims and Jews were reopened at about noon on Sunday, two days after three Arab-Israeli visitors to the site opened fire on Israel Police guarding the area, killing two Druze-Arab Israel Police officers.
On Monday, the Temple Mount was opened to Jewish visitors, who were able to be on the site without the scrutiny of the Waqf guards, who usually watch to make sure Jewish visitors do not pray or perform any religious rituals at the site. Reports on social media said that some of the visitors prayed and one group recited the mourners' prayer at the site where the two Druze-Israeli police officers were killed.
A report on Tuesday in the London-based Arabic news site Elaph, said citing an unnamed senior source that Saudi Arabian King Salman passed a message to Israel through Washington calling for the opening of the Temple Mount to worshipers.
The report said that Israeli Prime Minister Binyamin Netanyahu responded by saying that Israel had no intention of changing the status quo at the site, which prevents Jews from praying there and which the Waqf says has been altered by the presence of metal detectors. Netanyahu also invited Saudi officials to come visit the site themselves, but reportedly has gotten no response.