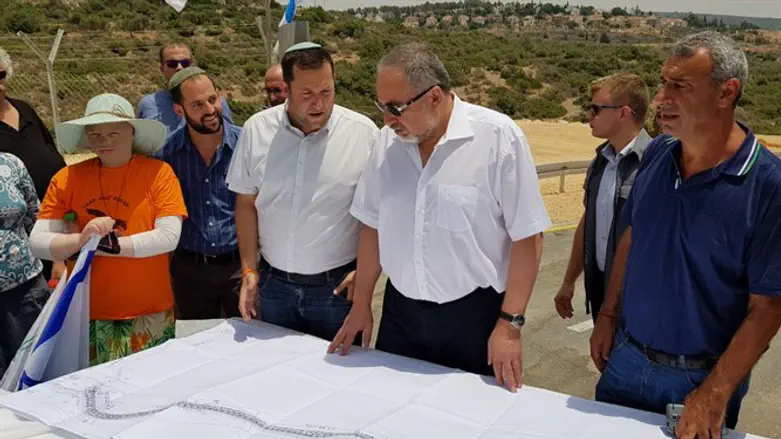 Liberman in Samaria
Roi Hadi
Defense Minister Avigdor Liberman visited today, Wednesday, in Maale Shomron together with Deputy Defense Minister Eli Ben-Dahan and Head of the Shomron Regional Council Yossi Dagan.
Liberman arrived in Samaria amidst the backdrop of the plan to build 14,000 housing units in Qalqiliya that will be brought this evening for a vote in the Political-Security Cabinet.

The Defense Minister expressed support for the plan during the visit, claiming that it consisted of only 6,000 Palestinian Arab housing units rather than 14,000. The head of the council, Dagan, came out against the plan and warned that construction in Qalqiliya would endanger Israel.
"I represent the 'responsible right,' not the 'messianic right,'" Liberman emphasized. "The plan includes a total of 6,000 housing units within a confined area. Qalqiliya is only the trigger for the struggle between the responsible right and the messianic right. "

Dagan replied to Liberman, "I really appreciate the Minister and I do not think I'm 'messianic' or 'delusional right.' The Qalqiliya plan is dangerous."
Ayala Shapira, who was seriously injured by a Molotov cocktail thrown at her about two and a half years ago, asked the Defense Minister, "Why did I have to be injured so that they would build a road for my community, while the enemy receives construction in exchange for terrorism?"
In response to Arutz Sheva's question, Liberman said that there is no construction freeze in Judea and Samaria. "I don't know what a freeze is, take the data and go over it. Only this year we approved 8,500 housing units in the first half. What freeze are you talking about? Look at the facts."
As for Netanyahu's promise to build 300 housing units in Beit El, the Defense Minister said, "We gave a budget of 5 million shekels and we are evacuating the military base (on which the housing units will be built, ed.)."
"We act without a lot of fuss. Publicity affects the momentum of construction negatively."
אילה שפירא לליברמן: הייתי צריכה להיפצע כדי שייבנה כביש?