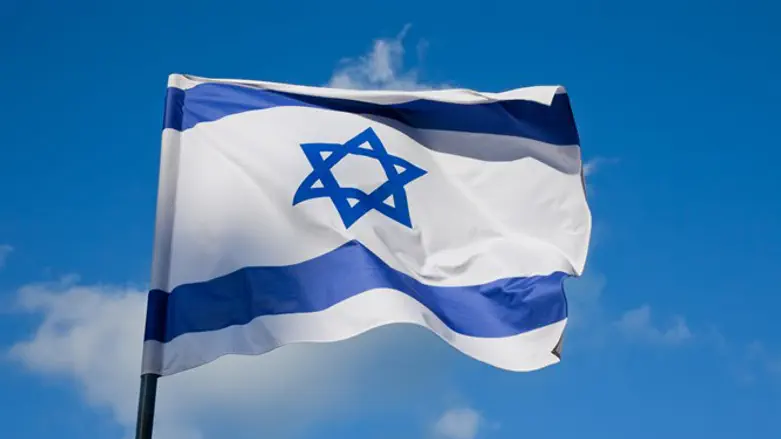 Israeli flag (illustration)
iStock
JTA - Israel has already defeated the Palestinian Arabs. All that's left is for them to surrender.
That was the argument made in Jerusalem this week, as led by the Philadelphia-based Middle East Forum, pro-Israel leaders and expert analysts gathered here to highlight local support for their aim of reframing the Israeli-Palestinian conflict internationally.
"After more than a century, the conflict is really over," Daniel Pipes, the forum's president told JTA. "As an American, I would like my government to say to the Israeli government, 'Do what you need to do to convince the Palestinians they lost.'"
Pipes on Sunday night held an English-language event at the Begin Heritage Center to cheer Tuesday's launch of a Knesset lobby committed to forcing the Palestinians to admit defeat. He said he hoped the Knesset Israel Victory Caucus - along with a public opinion poll he released Sunday to JTA — would help them convince U.S. policymakers to "let Israel win."
In an article in the December 2016 issue of Commentary, Pipes described the things Israel might do to "encourage Palestinians to accept Israel and discourage rejectionism." They include charging the Palestinians Authority for material damage from terrorism; blocking P.A. officials from returning to Judea and Samaria if their colleagues incite violence; quiet, anonymous burials for Palestinian Arabs killed attacking Israelis, and shutting off water and electricity supplies to punish violence by Palestinians Arabs.
"Inducing a change of heart is not a pretty or pleasant process," wrote Pipes. However, he continued, "Wars usually end when failure causes one side to despair, when that side has abandoned its war aims and accepted defeat, and when that defeat has exhausted the will to fight."
The Knesset Victory Caucus will be co-chaired by MKs Oded Forer (Yisrael Beytenu) and Yaakov Peri (Yesh Atid), a former head of Israel's Security Agency. A total of six Knesset members have so far joined, all from the governing coalition.
The lobby will be the sister organization of the Republican-only Congressional Israel Victory Caucus, whose co-chairs sent supportive statements to the crowd at the Begin Center.
Israeli, American and British speakers took the stage one-by-one to advocate a zero-sum vision of the Israeli-Palestinian conflict: The Zionist project was to build Israel. The Palestinian national purpose was to destroy Israel. Only one side could win, and it had been Israel.
Now, they argued, Israel's allies – most importantly the United States – must dispense with long-unsuccessful peace negotiations and allow Israel to finish the job, by forcing the Palestinian Arabs to concede defeat.
Despite their shared view of the end of the conflict, the speakers evinced widely divergent worldviews and priorities.
In his opening remarks, Pipes said that by "losing" the conflict, the Palestinian Arabs might actually gain even more than Israel because they could "move on to something better, more constructive, built their own polity, economy, society and culture."
Like Pipes, Richard Kemp, the former commander of British forces in Afghanistan, said that ending the Israeli-Palestinian Arab conflict would require changing attitudes in foreign capitals.
"I think the key here is not Israel. Israel obviously must play a significant part in it. But the key is the international community. It's the international community that by its actions continues to encourage aggression against Israel," he said.
On the other hand, MK Yehuda Glick (Likud) argued that Israel was responsible for its own destiny. By making itself "a light to the nations," Israel would bring "shalom upon the region and the world," he said.
"Yes, of course, they have to recognize Israel as a Jewish state. Of course, they have to stop anti-Semitism. But that's not what we have to deal with. We have to deal with what's good for us, and we have to continue," he said.
Einat Wilf, a former Labor MK, said she had over time given up on making peace with the Palestinian Arabs. She suggested that the conflict would only end when Arabs were forced to reinterpret the role of Zionism in their history.
"We rewrite our lives to turn our defeats into triumphs, right? That's what humans do," she said. "So the Arabs and the Palestinians [sic] will one day rewrite their history, their theology to acknowledge the Jewish presence here as part of their view that the Jews came here because that's how it should have been by Islam."
Meanwhile, the poll commissioned last month by the Middle East Forum found that 82 percent of Israelis do not believe the Palestinian Arab leadership will recognize Israel as the state of the Jewish people under any conditions. A plurality of Israelis said this was the biggest obstacle to peace. The margin of error was 3.7 percent.