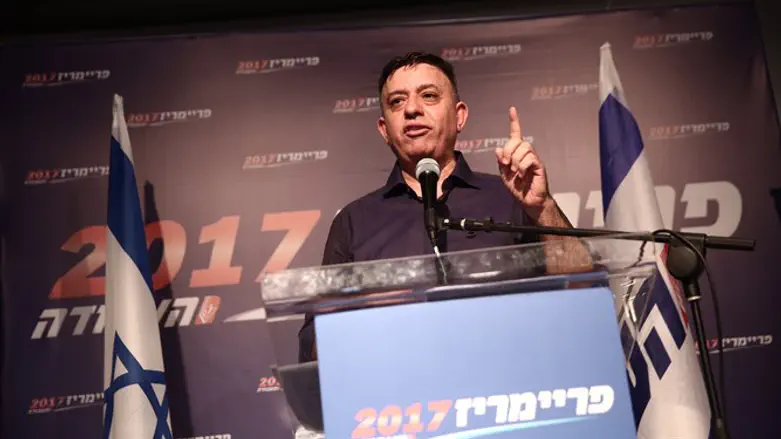 Avi Gabbay
Miriam Alster/Flash 90
Avi Gabbay, who won the election for the leadership of the Labor party, gave his victory speech on Monday evening.
"To anyone who doubted the vitality of Israeli democracy, to anyone who hastened to eulogize the Labor party as a living, kicking and innovative party, to anyone who thought that Israeli citizens had lost hope for change, to all those who claimed that a positive campaign does not win elections – for each and every one of those, tonight is the answer," said Gabbay.
"This night is a celebration of Israeli democracy, and it ends with a great show of faith. Tonight shows the Labor party in full force and you chose me, and I am grateful to you, to all the members of the Labor party who chose me. The Labor party trusted me and I promise to be faithful to the public mission I received. Tonight we celebrate victory - and then there will be a day of hope for the people of Israel. This is a day of victory for hope, a day of return to our sanity and values, a day of compassion," he added.
"The Labor party today expressed a change that reflects the entire people. The Labor party has chosen a new path: Party members, your voices have been heard, you have expressed your desire for a new leadership and here I am," Gabbay said.
The new chairman spoke of his vision, of a "leadership that takes care of Dimona - and not just of Amona. A leadership capable of solving the saga surrounding cancer-stricken children at the Hadassah Hospital. A leadership which is simply capable of making decisions. That's what we need. Honest leadership, where your lawyer cannot represent a submarine company that negotiates with you. He cannot. A leadership that works courageously for peace. No more leadership that deals with accusations against the Palestinians. "
He turned to the outgoing chairman and said, "My friend, Yitzhak Herzog, the party chairman, I am certain that you will walk alongside me in the future. I would be happy if you continue to serve as head of the opposition in the Knesset."
Gabbay also turned to the candidate he had defeated, saying, "To my friend MK Amir Peretz. We spoke a little while ago and I repeat my call - let's join forces, I need you by my side. I need your experience and your wisdom. I call on you and the other candidates to join us, because only together will we win."
"From now on, the word 'camp' is foreign to us. There will be no Gabbay camp in the Labor party, and from this moment there is only one camp - the Labor party. Tomorrow begins the campaign to replace the government in Israel," he concluded.