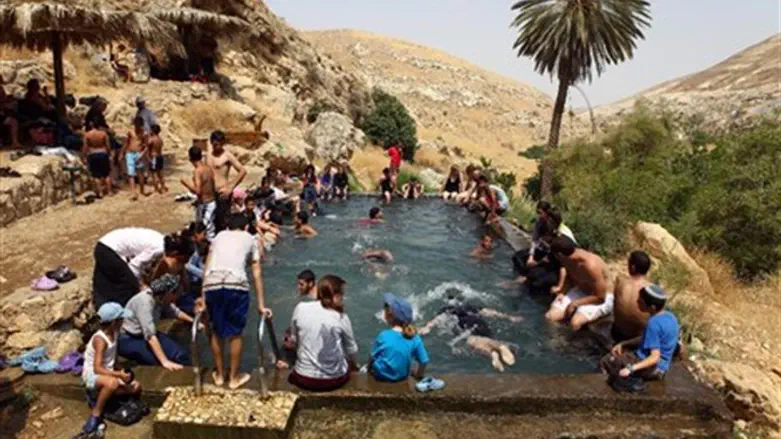 Hikers (illustration)
Flash 90
Tourism to Israel hit a record high in the first six months of 2017, with 1.74 million tourist entries - 26% more than the same period in 2016 (which saw 1.38 million tourist entries) and 24% more than the same period in 2015.
According to Israel's Central Bureau of Statistics, when compared to the same period in 2016, tourism from China in the first half of 2017 jumped 76%, and from Russia increased 30%. In addition, tourism from the US - Israel's largest source country for tourism - jumped 20%.
During the month of June 2017, 303,000 tourists entered Israel, representing a 28.4% rise from the previous year.
Of June's tourist entries, 275,000 were via air, representing an increase of 26% from June 2016 and 27% from June 2015. 28,600 tourist entries were recorded via Israel's land crossings: 24,000 via Jordan, and 4,500 via Egypt.
For day visitors, the numbers were 19,300 in June 2017, versus 8,700 in June 2016.
Meanwhile, Israel's total revenue from tourism in the first half of 2017 hit 9.4 billion shekels.
"The June tourism statistics bring us to record levels for incoming tourism in the first six months of the year," Tourism Minister Yariv Levin (Likud) said. "Our policy continues to prove itself and to bear fruit and we can see that the right marketing strategy can bring Israel to new heights."
"We are implementing marketing activities and innovative processes to brand Israel and to bring new airlines and new routes into Israel and all this activity proves itself, month after month ... The significant increase in incoming tourism numbers makes an exceptional contribution to the Israeli economy and workforce.
"I am convinced that, with the correct activities, we will see continue to see good results in the coming months."