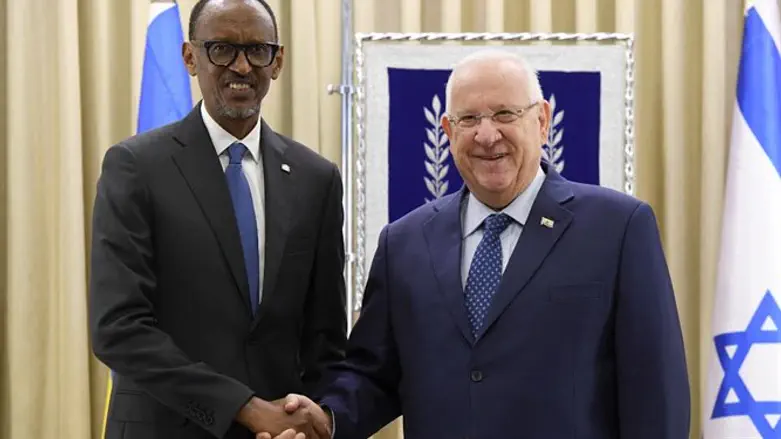 Rwandan President Paul Kagame and Israeli President Reuven Rivlin
Mark Neiman / GPO
Israeli President Reuven Rivlin on Monday morning welcomed at his Jerusalem residence Rwandan President Paul Kagame, who was visiting Israel.
Both Rivlin and Israeli Prime Minister Binyamin Netanyahu welcomed President Kagame on the red carpet, and stood for the national anthems of both countries. Afterwards, the three men went on to make brief public statements.
President Rivlin began by welcoming President Kagame who has been to Israel on several occasions before.
"I know that this visit in particular, will serve to strengthen the friendship between our peoples," Rivlin said. "Mr. President, I want to congratulate you on your recent speech at AIPAC, and I would like to use your words to say, 'Israel is, without question, a friend of Rwanda.'"
"We are two nations who understand the horror of genocide, and we must show what humanity can achieve with cooperation and understanding. Indeed, we are not just friends - through MASHAV and other cooperation and partnership, we are working together to solve some of the biggest issues facing humanity; water and food security.
"We know that Rwanda is now going to be member of the UN Human Rights Council. This is a body which is always against Israel, so we welcome all those who are prepared to speak for us.
"We appreciate your support very much. It is a pleasure to welcome you here in Jerusalem."
President Kagame thanked Rivlin and Netanyahu for their hospitality and warm words.
"I am very pleased to be back in Israel and I want to thank the President, the Prime Minister, and the Government of Israel for this opportunity to reaffirm and deepen our very friendly relationship, between Israel and Rwanda.," Kagame said.
"Cooperation between our countries has blossomed in many areas among them technology, agriculture, and energy, as well as security. We appreciate what Israel has to offer in these and other fields, and we are very happy to be working with you.
"Trade and investment links have also multiplied. Rwanda is open for business and we look forward to welcoming private sector delegations from Israel even more frequently in the future.
Ever since the Prime Minister's visit to west Africa last year, Israel has continued to follow through on its commitments and objective of scaling up engagement across Africa this is a very positive trend which can only be welcomed and merits our support."
"We are looking forward to reinforcing our cooperation with Israel on common challenges and issues of mutual interest."
Presidents Rivlin and Kagame then went on to hold an extended working meeting, during which President Rivlin noted, "The phrase 'never again' is not just a lesson for the Jewish People, it is a lesson for the whole world. We are a member of the family of nations, and we have mutual responsibility to one another."
Rivlin also emphasized that the presence of countries with whom Israel had friendly relations, in forums like UNESCO encouraged Israel and raised the hope that political and distorted decisions would encounter greater resistance and a stronger demand for the truth.
Rwandan President Paul Kagame's visit to Israel
Mark Neiman / GPO
PM Binyamin Netanyahu, Rwandan President Paul Kagame, and President Reuven Rivlin
Mark Neiman / GPO