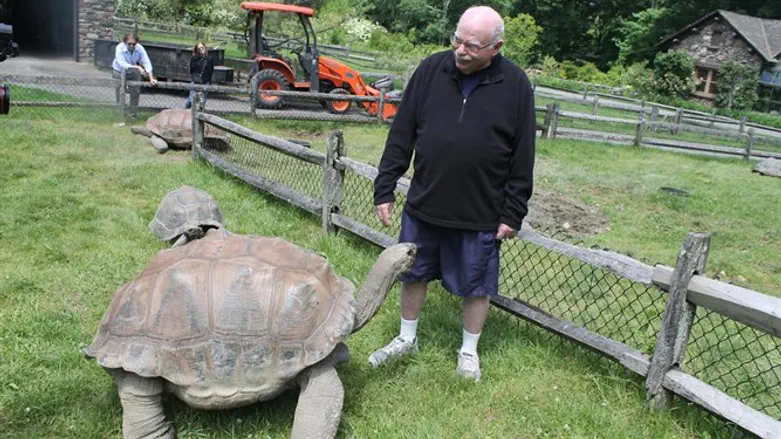 Michael Steinhardt interacting with his tortoises.
Ben Sales
When Michael Steinhardt strolls around his 55-acre backyard for 90 minutes every morning, one of his favorite animals to see is the scimitar-horned oryx, whose antlers sweep back from its head like the swords for which they are named. But Steinhardt didn't much like finding out that a (literally) horny oryx had stabbed a zebra to death during a testosterone-fueled mating season three years ago.
The zebra incident is, thankfully, an outlier on his sprawling estate about an hour north of Manhattan, home to at least 30 species of animals as well as more than 100 birds. It's been called a "private zoo," but that's true only in the sense that St. Peter's Basilica is Pope Francis' local church.
I rode north for an hour on a train expecting animals in cages, a few serene ponds with exotic fish, maybe some petting opportunities. I didn't expect to pass a spiral bamboo climbing structure (for humans), to take a walk across a rickety rope bridge in the middle of a forest, or to find owls squawking at me, Harry Potter-style, in the middle of the day, causing me to re-evaluate whether the expression "night owl" is really even accurate.
Soon after, we come across two century-old tortoises humping, the bottom one slowly crescendoing up on her wrinkled legs as her lover cranes his long neck diagonally downward. The "guy on top," Steinhardt informs me, is named Sexton -- for John Sexton, the past president of New York University. The reason?
"Sexton was the boss of NYU and this guy is the boss of the tortoises," explains Steinhardt, an NYU trustee.
Then Steinhardt tells me I can ride another tortoise, bareback, a few feet away. Usually I try to remove myself from the stories I cover. But I mount the amphibian.
"Tortoise equestrian" is generally not the first phrase that comes to mind when discussing Steinhardt, the hedge fund billionaire who helped create Birthright, the free 10-day trips to Israel for young Jews. But Steinhardt's zoo, at around 15 years old, is only slightly younger than Birthright – and it reveals a totally different side of the man's personality.
Steinhardt fashions himself as the disruptive Jewish innovator – outspoken about the shortcomings of American Judaism, discussing it in full, extemporaneous paragraphs and ready to put his money where his mouth is. He has embarked on venture after venture – first the free Israel trips, then a network of Hebrew-language charter schools, now a museum of natural history at Tel Aviv University that will open this summer. The museum is a way for Steinhardt to merge his love of fauna with his love of Israel -- especially because he says he's not allowed to import Israeli animals across the ocean.
He is eager to defend all of these programs with statistics proving their worth. And despite his very high profile, Steinhardt says his Jewish initiatives are really about other people – the half-million Jewish young adults who have gone on Birthright, say, or the students who attend the charter schools.
But the zoo is all about Steinhardt himself; he made it solely so he and his family could live among beauty. Steinhardt likes to meander from field to field, introducing visitors to red kangaroos, marmosets or wallabies, an Australian marsupial.
"I decided to do this because I really love animals and I thought that this would create more joy for my family and I than anything else I could do," he says.
Seconds later, he is back to being a tour guide.
"Directly in front of you is a female ostrich," he says, pointing. "To the right is a group of guanacos. There are four different varieties of South American cameloids: They are alpacas and llamas and vicunas and guanacos."
Steinhardt's love of animals began with the parakeets and fish he had as a child, and as an adult he has built an ecosystem of flora and fauna from across the globe. If Steinhardt is a kind of Moses with Birthright, on a mission to bring the Jews (briefly) to Israel, here he is Noah – animals from all over the world now surround him two by two.
He feels a tranquility on the grounds because they are blissfully free of the kinds of problems his philanthropy is trying to solve. In Israel, the Jews fight with the Palestinians. At his zoo, the swan lies with the capybara.
"What we do differently here is we have a variety of disparate animals together," Steinhardt says. "Even though I'm used to it, it still feels like a treat."
Many of the animals on the estate roam on rolling hills enclosed with wooden fences. The swans and capybaras -- the world's largest rodent -- lounge on the bank of a pond among scattered landscaped trees and stones. Some of the more carnivorous animals do live in cages – like a group of serval cats – though the enclosures lead out to small, separate fields. The marmosets, a New World monkey species, live in tall, rectangular cages with a complex branch infrastructure tailored for climbing. Birds flit and perch inside an aviary.
Steinhardt has no method for choosing his animals. Seeing one he likes, he'll see if he can get it. He has a dealer he trusts, and also will make deals with zoos. The capybaras, for example, were adaptable to the climate, and he liked that they could stay underwater for long stretches. Now he's negotiating a large donation to the Smithsonian's National Zoo in Washington, D.C., possibly in exchange for red pandas, though Steinhardt says he has little space to expand.
He is vague about his zoo's specs – how much it costs to run (Steinhardt ignores the question), how he stays within regulations governing private zoos (it's all legal, he assures: "The local police are perfectly nice.") and how many people he employs to tend to the animals (his answer: "1.2 percent of the male population of Nicaragua," which comes out to roughly 34,000 people. He is kidding.).
At the end of the walk through the zoo, plus a visit to his private strawberry garden, we hop on a golf cart that takes us through much of the rest of the estate – sloping paths through unmanicured forests, water trickling down a rock sculpture, a large, boxy house in a clearing that Steinhardt is building for his daughter's family.
And then, at the finish of the odyssey, we see the zedonks. Half-zebra, half-donkey – Steinhardt prefers the word "zonkey" – they stand in a trio, brown pack animals covered in black stripes, a puffy black mane and pointy ears sprouting from their necks and heads. Not far away are camels, which we all but ignore. The zedonks approach us warily, intruders in their habitat, and let us observe them.
But by then, Steinhardt is transforming back into the billionaire philanthropist – taking business calls, coordinating logistics for how we would leave. We have been with the animals for more than an hour. Now it is time to return to America, its Jews and their problems.
ichael Steinhardt's zoo includes 30 species of animals, incuding the red kangaroo, front, and ostric
Ben Sales
One of Michael Steinhardt's more unique possessions is his group of zedonks, the offspring of a zebr
Ben Sales