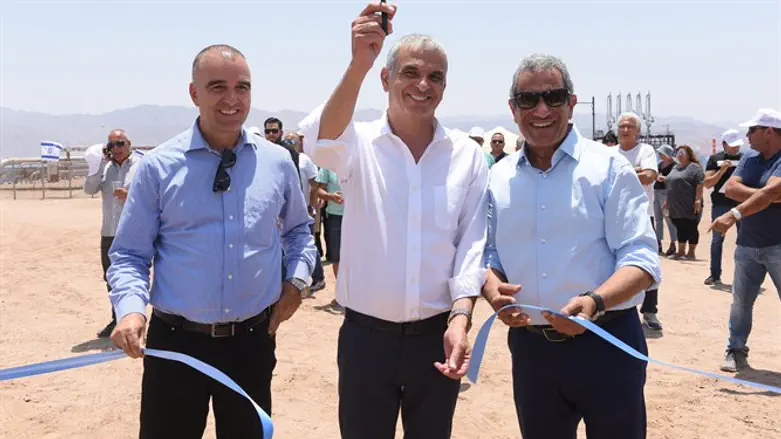 Cutting the ribbon at the EAPC beach ceremony on Wednesday
David Haim
The southern "oil beach" strip in Eilat's southeast, which was closed to the public for 50 years, was opened on Wednesday to the public and authority over it transferred to the Eilat municipality.
Participating in the ceremony were FInance Minister Moshe Kahlon (Kulanu), Eilat Mayor Meir Yitzhak Halevi, and Eilat-Ashkelon Pipeline Company Director Erez Halfon.
Until Wednesday, the beach had belonged to the Eilat-Ashkelon Pipeline Company (EAPC).
The beach is considered the most beautiful virgin beach in the city, and includes the Coral Beach Reserve, and its beautiful coral reefs, which have been preserved throughout the years.
According to the agreement, the strip of beach - totaling 500 meters - will be transferred to the Eilat municipality in two stages.
The first stage, which was completed today, opens 300 meters of beach to the general public. The other 200 meters will be transferred later, and will be declared an "ecological beach" which will serve scuba divers and offer educational sea activities.
Out of 13 kilometers of Eilat beaches, 3.5 of them are not accessible to the public, since they are owned by private companies. Among these companies are the Israeli Navy, the Environmental Protection Ministry, the Israel Ports Company, and the Joint University Institute.
The EAPC is the first company to agree to transfer its beaches to the Eilat municipality.
Kahlon, who served as a mediator in the discussions, said, "One of the most beautiful beaches of Israel is returning to its rightful owners - the public - after dozens of years of discussions and repeated attempts to give this beach back to Eilat's residents and vacationers."
"Our goal is to give other strips of beach back to the public as well."
Halevi said, "This is a holiday for the city of Eilat. The determination, the hard work of many years, and a lot of love, won out in the end. There is no one more excited than I to give this beach back to the public."
"We need to remember that just a few years ago, we could not even speak to EAPC, because there was no other option which would ensure Israel's energy safety. I intend to pressure other parties as well, so that we can open additional beaches to the public."
"EAPC makes it a point to integrate into the community it works out of," Halfon said. "We invest much in these communities. During the past year, we worked with the Finance minister to allow the EAPC beach to be transferred to the Eilat municipality. I thank all of those involved for their help."
"EAPC will continue its vital work as a gateway to Israel's energy."