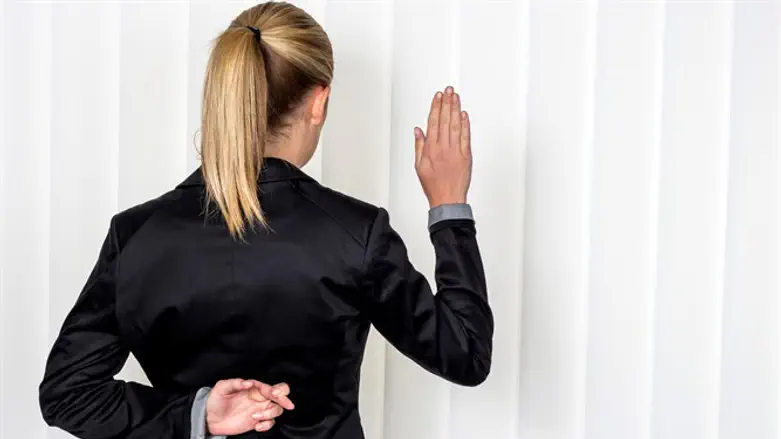 Woman perjuring herself
iStock
In an unusual move, the Knesset's Legal Adviser today (Tuesday) banned the Knesset's Committee for Distributive Justice and Social Equality to discuss libels against men.The discussion had been scheduled for tomorrow morning.
Less than 24 hours before the date of the hearing, the director of the committee announced to the invitees: "I was asked by the Chairman of the Special Committee for Distributive Justice and Social Equality, MK Miki Makhluf Zohar, to inform you that according to the instruction of the Knesset Legal Counsel, the special committee is not authorized to discuss the issue: 'Handling false complaints: Are men equal before the law?'"
Such intervention in the activities of Knesset committees is very rare and the veterans of the institution find it hard to remember a similar incident.
MK Miki Zohar told Arutz Sheva that he intends to appeal to Knesset House Committee Chairman MK Yoav Kisch to convene the House Committee and authorize the committee he chairs to discuss the issue of false complaints and other claims regarding family inequality.
MK Zohar said: "I find it difficult to understand the decision of the Knesset's legal adviser.This decision prevents an important discussion that may lead to equality between men and women.False complaints undermine trust between a man and a woman and cause irreparable harm to children when they are prevented from seeing their father.The purpose of the hearing was to bring about an open discussion without any intention of harming those women whose complaints are justified."