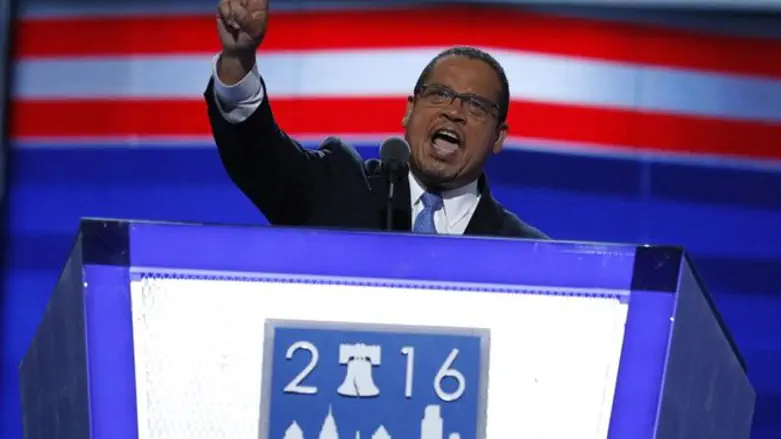 Keith Ellison
Reuters
JTA - Thirty-two Democratic members of Congress have urged the secretary of state to help an Arab activist who is going on trial in Israel.
In a letter sent Wednesday, the lawmakers asked Rex Tillerson to utilize his influence in the case of Issa Amro, who is facing charges connected to protests he organized in Hevron.
US Reps. Keith Ellison and Betty McCollum, both of Minnesota, Earl Blumenauer of Oregon, and Mark Pocan of Wisconsin circulated the letter organized by the U.S. Campaign for Palestinian Rights, CODEPINK, Jewish Voice for Peace and American Muslims for Palestine.
Amro will appear July 9 in a military court to face 18 charges, most dating back to 2013, that include "spitting at a settler, obstructing soldiers and insulting them, and entering closed military zones," Haaretz reported. An Israeli military spokesman described his actions as "disturbances," but did not claim his protests are violent.
"After evidence of these offenses was collected, the indictment was served," the spokesman said.
According to the congressional letter, Amro has been recognized by the United Nations and the European Union as a human rights defender for his organization, Youth Against Settlements. The UN and Amnesty International have condemned the case against him.
The letter questioned whether Amro would be judged fairly in the Israeli judicial system.
"We fear that Israeli military courts deliberating over Mr. Amro's charges will be unlikely to render a fair and impartial verdict given that the conviction rate within that system is 99.74 percent," the lawmakers said.
They added: "Although we strongly support Israel's right and, indeed, obligation to ensure the security of its citizens, we also support the right of Palestinians to peacefully politically organize and demonstrate."
The members also appealed to Tillerson by noting that the US and Israel have shared values.
"We should encourage our steadfast ally in the region to uphold our shared values and respect activists like Issa Amro: freedom of expression must be a foundation for a just and lasting peace for the Israeli and Palestinian people," they wrote.
Last year, the State Department featured Amro's case in its Human Rights Report, highlighting the issue with freedom of peaceful assembly in Israel.