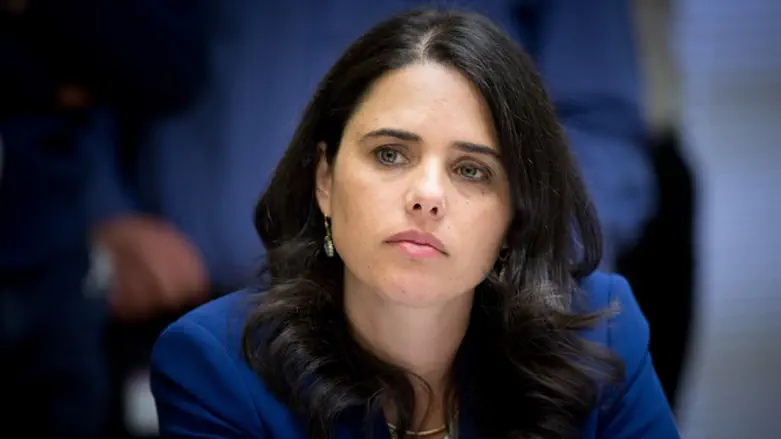 Justice Minister Ayelet Shaked
Flash90
Justice Minister Ayelet Shaked called on Israel's attorney general Avichai Mandelblit to open a criminal investigation against "Bladna," an Israeli-Arab non-profit organization that she says incites Druze youth against IDF enlistment.
"Incitement against IDF enlistment is not only a violation of the law, but harms the cultural fabric and ethos of Israeli society," said Shaked. "It is inconceivable that this illegal activity occurs under our noses and with the backing of elected officials."
Shaked's statement came in response to a report released by the Zionist organization Im Tirtzu, which claimed that Bladna's anti-enlistment activities were in violation of the law because they targeted Druze youth who are required to serve in the IDF.
According to the report, Arab members of Knesset including Joint List head Ayman Odeh have publicly supported the organization and have participated in their events at recent as April 2017. The report also notes that Bladna's donors include the US-based New Israel Fund and the European Union, which donated nearly 2,000,000 NIS to the group in 2015.
Druze members of Knesset also responded to the report.
"I am proud of the members of the Druze community who enlist in the IDF and sanctify the 'blood covenant' that exists between the Druze community and the State of Israel," said Minister of Communications Ayoub Kara.
"I will not allow for any organization, whether political or extra-parliamentary, to harm the unique and strong social fabric created over the years by inciting against IDF enlistment."
Yisrael Beiteinu MK Hamad Amar, Deputy Speaker of the Knesset, pointed to the high percentage of Druze enlistment, calling their loyalty to the state "unquestionable."
"Not Bladna nor any other organization will be able to uproot the deep and strong connection between the Druze community and the State of Israel," said Amar.
Kulanu MK Akram Hasson also responded to the report by requesting the non-profit registrar to disband Blanda. "They will not succeed in stoking the flames of quarrel between brothers," said Hasson.
Chairman of the Subcommittee for Personnel in the IDF, MK Amir Ohana (Likud), announced his intention to convene an emergency committee session to discuss the findings of the report.
"We cannot allow for the haters of Israel to harm the IDF and its soldiers," said Ohana. "These despicable individuals are trying to discourage IDF enlistment of the Druze community, which includes the best of our warriors and heroes."
Im Tirtzu CEO Matan Peleg emphasized how the New Israel Fund and European governments are trying to "brainwash" Arab youth against integrating in Israeli society.
"It is inconceivable that anti-Israel incitement can penetrate unhindered into Israeli schools," said Peleg. "It is important to note how the ones to suffer the most are the Arab youth who are being brainwashed to oppose the society in which they live."
"We are calling on the Attorney General to open an investigation against this foreign agent organization, for both inciting the Druze sector against IDF enlistment and for engaging in seditious activity by calling on an entire population of society to oppose the state."