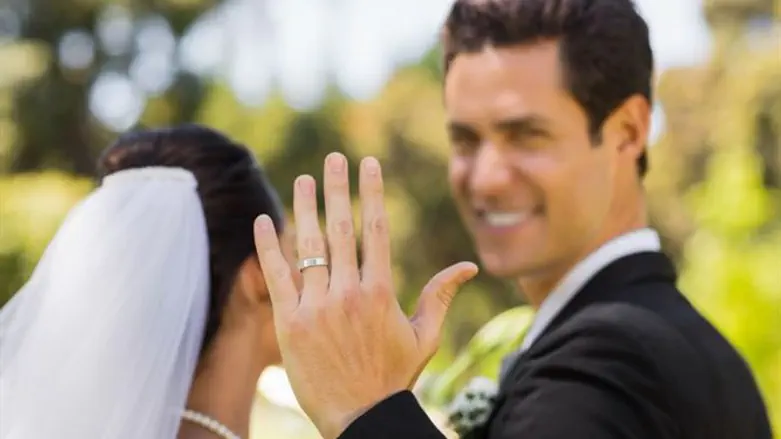 Wedding ring (illustration)
Thinkstock
The Jewish Theological Seminary, which trains rabbis for the Conservative movement, said it is committed to continuing to ban its graduates from performing interfaith wedding ceremonies.
The statement issued Wednesday comes in response to the announcement last week by two rabbis who are members of the Rabbinical Assembly, the international association of Conservative rabbis, that they would begin officiating at interfaith wedding ceremonies.
Senior Rabbi J. Rolando Matalon of the popular nondenominational synagogue B'nai Jeshurun in New York City, announced in a video shared last week at the synagogue's annual meeting: "We are embracing a significant change in how we approach the future of Jewish life at BJ.".
"For those who are or wish to be members of our communities and of our families, the door is open to study and commit to join our ancient faith. We respect the choice of those who prefer not to become Jewish, understanding that their religious identity is no less significant than is our own," the statement also said.
The announcement at Bnai Jeshurun came after a yearlong series of classes and discussion on the topic to prepare the community and earn its buy-in.
The synagogue's new policy is intended to welcome the participation of interfaith families within the bounds of Jewish law, or halachah. Interfaith couples will not sign a ketubah, the traditional document sealing a marriage between a Jew and a Jew, but a ritual contract called a tenaim, a traditional engagement agreement that lays out the conditions of marriage. will continue to hold to the traditional matrilineal definition of Jewish identity, in which a child is considered Jewish at birth if its mother is Jewish by birth or choice. Patrilineal adults and children will continue to immerse in a mikvah as part of a conversion ceremony at the synagogue.
The JTS statement, however, concluded: "We understand the arguments made for our clergy to officiate at interfaith weddings, knowing that they come from a place of genuine concern for bringing near individuals and families who are or might be estranged from the community and tradition we love. However, we believe—and the data confirm—that by far the most effective path toward building a Jewish future is to strengthen Jewish identity, beginning with the Jewish family."
The ban on officiating at interfaith weddings is possibly a case of closing the barn door after the horse has bolted, as since 2014, the Conservative Movement allows the board members of its youth movement, United Synagogue Youth (USY) to date non-Jews. The amendment was adopted at the annual international convention of the Conservative movement's youth group.and affects teen officers who serve on USY's national and regional boards. The thousands of teens who participate in USY programs have not been subject to any such bans to begin with. An attempt to relax the requirement of Sabbath observance for teen board members at that convention was rejected.