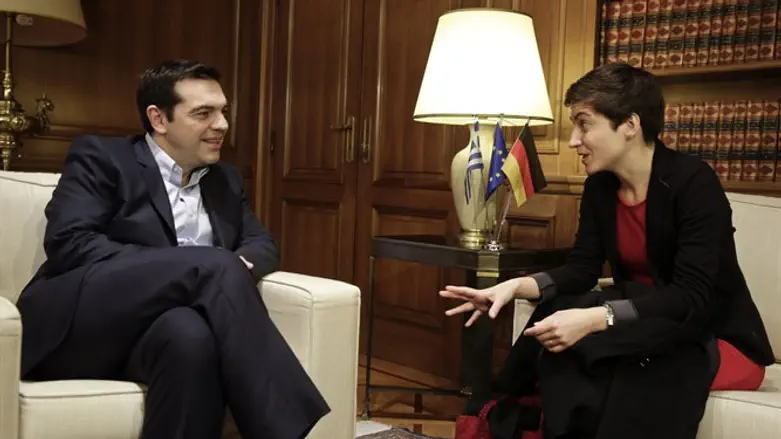 Greek Prime Minister Alexis Tsipras (L) meets with member of EU for The Greens Ska Keller
צילום: Reuters
The Vice President of the European Parliament's "Greens-European Free Alliance" group, Ska Keller, wants to see "whole Syrian villages" relocated to Eastern Europe. She believes "moving migrants in huge numbers would improve integration" because "people like to go where they can be among their own countrymen."
Keller told the Neue Osnabrücker Zeitung that it is essential the EU implement a "solidarity distribution" system because migrants should be spread throughout Europe, reported Breitbart.
Noting how a large proportion of migrants resettled in Baltic states like Lithuania quickly left to seek higher welfare payments in countries like Germany, the Green MEP said Brussels should send migrants to Eastern Europe in much greater numbers.
Keller suggested the EU could resettle "a whole Syrian village" in Latvia, "for example, if refugees are not wanting to move to a country without any other refugees".
"People like to go where they can be among their own countrymen," she explained, and claimed that moving migrants in huge numbers would improve integration.
Commenting on the European Commission's decision to take legal action against Central European nations refusing to welcome a quota of third world migrants set by Brussels, the German politician stressed that "the refusal of the Czech Republic and other states to accept refugees violates EU law. That is why the EU Commission has launched a case against these countries for breaching the EU Treaty."
Regarding Keller's proposal, Jihad Watch said, "The existence of Muslim no-go zones and enclaves where inhabitants are 'among their own countrymen' seems to have bypassed Keller. She also has her head in the sand about the nature of Islamic supremacism: Islamic supremacists don't want to integrate, they seek conquest, and the Hijra is an effective way to achieve that goal.
"Ska Keller is also willfully blind (like many other Western leaders) to the Islamic State's promises to infiltrate the refugee stream (which they have fulfilled), and to the implosion of European countries with billions of dollars of debt, Muslim migrant crime, chaos and jihadi attacks. None of this seems to matter to Keller. She even flippantly notes that migrants have moved around to seek 'higher welfare payments in countries like Germany,' and so therefore Brussels should simply 'send migrants to Eastern Europe in much greater numbers,'" Jihad Watch wrote.