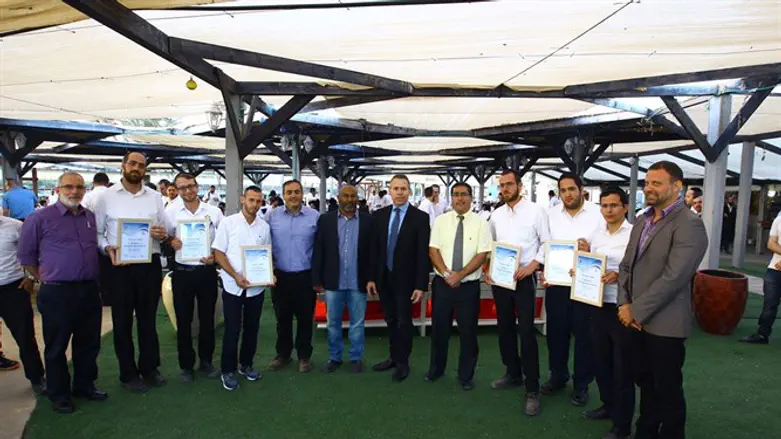 The exceptional volunteers with Minister Gilad Erdan
Public Security Ministry spokesperson
Public Security Minister Gilad Erdan (Likud) and National-Civilian Service Administration Head Sar Shalom Jarabi participated on Tuesday night in an event honoring haredi National-Civilian Service volunteers.
At the event, which was held in Ma'ayan Zvi Fishing Park, Erdan gave certificate of appreciation to exceptional haredi National-Civilian Service volunteers.
The volunteers, all yeshiva students ages 21-28 who finished their studies in yeshiva, hail from all over Israel. The number of haredi volunteers today stands at 700, most of whom help children and youth at risk and work to raise awareness of and reduce violence.
National-Civilian Service volunteers can also volunteer in Israel Police, the Prison Service, firefighting, as emergency medical responders, and more.
"My office works in lifesaving activities," Erdan said. "One of our biggest challenges is ensuring each person's personal safety and improving services."
"Our haredi volunteers act as a bridge between us and the haredi community. They save the future lives of children and youth at risk. I believe that in the coming years, we will merit to see more haredi policemen and policewomen, who serve in the police forces and save lives."