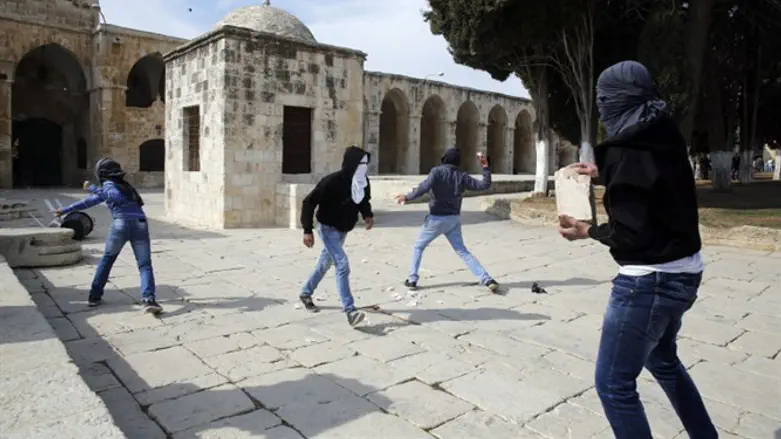 Muslim rioters with stones on the Temple Mount
Flash 90
Four Arab stone-throwers who were taken into custody last week after they attacked Jews who were visiting the Temple Mount were freed just hours after their arrest, despite having injured one of the Jews they had targeted.
Last Sunday, rioters hurled stones at Jews on the Temple Mount, injuring one. Police briefly closed the holy site to Muslim worshippers following the incident.
Authorities later captured four of the assailants.
It was later revealed, however, that the attackers were freed just hours after the assault.
In a letter which was publicized on Monday, attorney Haim Bleicher from the legal aid organization Honenu expressed shock at the police department's handling of the case.
"My clients went up to the Temple Mount as part of a group of 11 people. At the southern end of the Temple Mount, [the attackers] began to throw stones and other objects at them from the direction of the Dome of the Rock. My clients and others who were present were hurt by the stones, but miraculously did not need to be evacuated for hospitalization."
"It was revealed in a statement by a police spokesperson regarding the arrest of the four suspects, residents of Judea and Samaria, who were involved in the aforementioned incident that the suspects were freed, with limitations. Releasing the suspects is bizarre, given the severity of the incident at such a sensitive site [the Temple Mount]."
In most cases, Bleicher noted, police request suspects be held in custody until the trial has been completed.
"In many other cases of stone-throwing, the police request the [suspects] be held in custody until the proceedings have been completed. It is very odd that suspects who pose a threat to the public are freed shortly after the incident of which they are suspected."