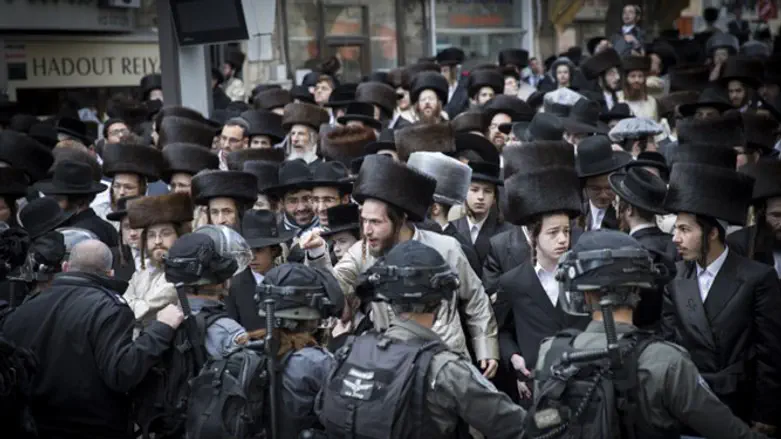 Haredi protest in Jerusalem
Flash 90
This Thursday, a group of soldiers and officers are expected to hold a protest rally against attacks on IDF soldiers by extremist elements in the haredi community.
The protesters will march from Davidka Square in central Jerusalem to the Mea Shearim neighborhood of the capital.
Arutz Sheva spoke with spoke with Binyamin Tzabari, the organizer of the event.
Tzabari explained why he decided to engage in this show of support for haredi IDF soldiers. "In the last two months I have been receiving reports in the media and from security groups about these attacks. We nod [our heads] every time ... but we do not take that step forward. About a week ago, when [I saw a report that] a haredi soldier was attacked, I decided to stop nodding and to start supporting them."
Tzabari said that the response to his initiative has been "amazing."
"I started this with a post on Facebook that has gained wild momentum and I am receiving a lot of warm responses, not only from reservists, but also from [members of] the haredi community who have become involved in the event. Even if you are against conscription, the violence, ostracism, and expulsion [from the community of haredi volunteers to the IDF] crosses a line.
"There are many streams and opinions in the haredi community, and the moderate haredim support and make our protest public.
As for concerns that the demonstration could spark clashes with extremists, Tzabari said: "The Israeli police force will be deployed with reinforced forces, and we will take care to avoid friction."
He expects approximately 1,000 people to attend the protest, but he already sees success in the public discourse about the demonstration he is planning and around the protest against violence. "The solution is not a one day thing, we are starting a process of raising public discourse and finding a solution."
He called on the Knesset to pass additional legislation to create deterrence against anti-IDF violence in the haredi community.