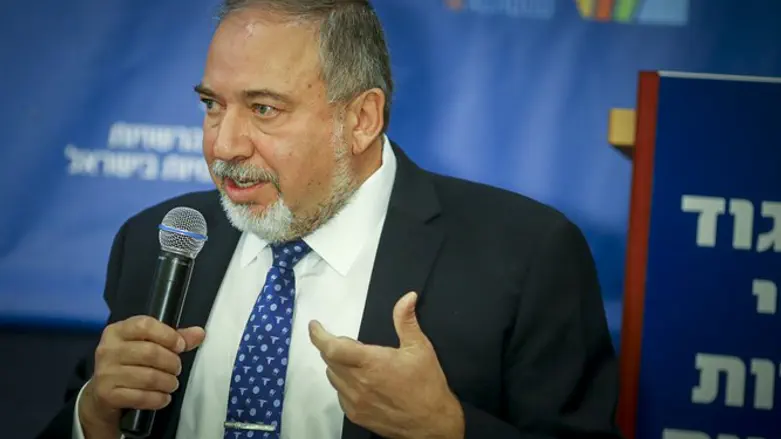 Avigdor Liberman
Flash 90
Defense Minister Avigdor Liberman rejected on Wednesday evening the criticism voiced by Education Minister Naftali Bennett and Justice Minister Ayelet Shaked over the planned 14,000 residential units in Qalqiliya at the expense of Area C.
"The statement by the ministers of the Jewish Home is very surprising, since the so-called 'sticks and carrots' plan was introduced six months ago to all the cabinet ministers, including the ministers of the Jewish Home. Raising the issue today of all days, including the statements and demands, sounds too much like the conduct of the Tehiya movement in 1992, when it toppled the right-wing government headed by Yitzhak Shamir, which in turn brought the Oslo Accords upon us," said Liberman.
"The current government is the most favorable to the settlement enterprise in Judea and Samaria. In the first half of 2017 alone, thousands of housing units were approved. We are implementing a level-headed policy, which undertakes the promotion and development of Jewish settlement in Judea and Samaria on the one hand, while safeguarding the national interests of the State of Israel in the international arena on the other," he added.
Earlier, it was announced that 14,000 housing units for 50,000 Arab residents were approved for construction in Area C, which is under full Israeli responsibility, for the city of Qalqiliya.
The move would double the size of the city, located in Area A, at the expense of land in Area C which was intended for Israeli development. The plan would bring the city and nearby Jewish communities far closer together.
At the same time, about 2,000 housing units for Jews were approved by the government a week ago in the entirety of Judea and Samaria. The Jewish population of Judea and Samaria is approximately 450,000.
Bennett and Shaked blasted the plan, noting, "The Israeli government must promote Israeli interests in Judea and Samaria, not those of the Palestinians. In light of these implications, we will demand a freeze on the plan until the cabinet can discuss it or until marketing of 14,000 housing units for Israelis in Area C [is carried out to balance the Arab building plan]."