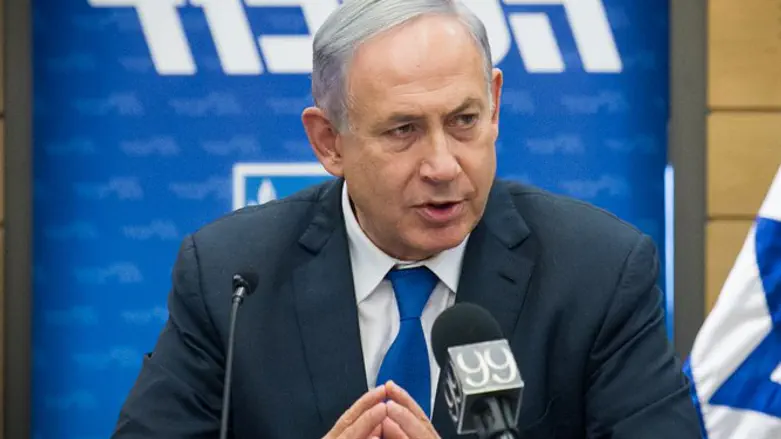 Binyamin Netanyahu attends Likud faction meeting
Miriam Alster/Flash90
Prime Minister Binyamin Netanyahu reiterated his intention to pass a law that would limit funds received by left-wing organizations from foreign countries at the start of the weekly Likud faction meeting Monday afternoon.
"From time to time I update you on my foreign relations activity," Netanyahu told the assembled MKs and ministers. "Among other things, we are undertaking a much more aggressive policy with regard to actions directed against the State of Israel through various organizations."
Netanyahu said that after he had spoken with the Danish prime minister and the Danish foreign minister, they decided to halt payments to organizations which glorify terrorism and incites violence against Israelis.
He explained why the NGO Law which was approved by the Knesset is weak and insufficient. "I think this is a situation in which the shoemaker can be barefoot and in fact there is no limit to the flow of money into all sorts of associations, which, among other things, vilify IDF soldiers through no fault of their own. While we have passed a law on nonprofits which improves transparency, the situation in which it is possible to inject unlimited funds into NGOs without limit is a situation that I believe is incorrect."
"Many countries are very anxious about external interference in their affairs, which is very powerful these days, and the State of Israel certainly needs to re-examine this issue. That is why I asked our friend Yariv Levin to promote a new NGO law that would handle this question in a controlled and responsible manner and he will take care of it," Netanyahu said.
Netanyahu emphasized that "the law concerning non-profit organizations that we passed concerns the question of transparency, which is important in itself, but in my opinion it is not enough."
Turning to the issue of the National Law, the Prime Minister said: "We intend to bring it to legislation for the first, second and third readings in this session. We will of course discuss this before it reaches the final legislation and I am sure it will be an important and interesting discussion."
In my opinion, this is one of the most important laws that any Knesset has undertaken. I think there will be great pride here when we pass it" Netanyahu said.